Kim Kardashian's Friendship With Jonathan Cheban On The Rocks?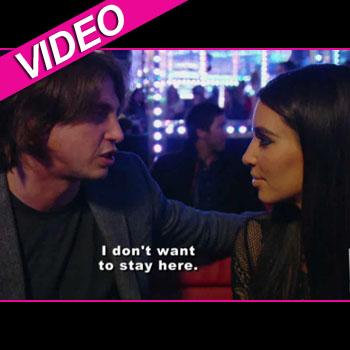 Kim Kardashian continued courting Kanye West on Sunday's episode of Keeping Up With the Kardashians, but it might have chipped away at her longtime friendship with publicist Jonathan Cheban.
Kim was in the UK for business and asked Jonathan to fly out from New York and join her there. When they arrived at their hotel, Kim was pleasantly surprised to see Kanye had stocked her hotel room with racks of designer clothes.
Article continues below advertisement
"So Jonathan and I walk into the hotel room," Kim said, "and I show Jonathan all the stuff that came from Kanye."
Kim and Kanye got some together time when Kanye's music tour arrived in London; Jonathan, however, felt a bit neglected when Kim was not spending time with him as he'd hoped.
"If she keeps acting like this, I'm just gonna go home," Jonathan groused. "I don't even think she'll notice."
During one outing at a club, Jonathan broke off to spend the time with Scott Disick and Rob Kardashian, leaving Kim all by her lonesome.
The two finally cleared the air about their disconnect.
Kim told her fellow flour-bombing victim, "I feel like I've been so inconsiderate and I apologize … I love you and I want you here, that's why I wanted you to come out."
Jonathan said, "I want us to have some fun on my terms, as well."
Watch the video on RadarOnline.com
Kim appeased her pal, spending the day with him, and taking in the London Eye Ferris Wheel, where they got a grand view of the city.
Article continues below advertisement
Kardashians: Lonely in London
Kim makes a point to work hard and play hard--but apparently her friend Jonathan isn't keen on her interpretation of fun.
@font-face {
font-family: "DIN Web Condensed";
src: url('http://www.eonline.com/resources/fonts/DINWeb-Cond.eot');
src: local("?"),
url('http://www.eonline.com/resources/fonts/DINWeb-Cond.eot?#iefix') format("embedded-opentype"),
url('http://www.eonline.com/resources/fonts/DINWeb-Cond.woff') format("woff");
}
#e-online-video-wrapper {background-color: #000000;}
#e-online-video-wrapper embed {display:none;}
#e-online-video-wrapper video {display:none;}
#e-online-video-wrapper #link {display:block;position:relative;}
#e-online-video-wrapper #link .overlay {cursor:pointer;position:absolute;z-index:3;}
#e-online-video-wrapper #link:hover .overlay {border:3px solid #FF0000;}
#e-online-video-wrapper #link #video-thumbnail {display:block;}
Article continues below advertisement
#e-online-video-wrapper #link .play-btn {background:url("https://images.eonline.com/static/uberblog/images/play-btn.png") no-repeat scroll 0 0 transparent;height:56px;position:absolute;width:56px;}
#e-online-video-wrapper #link:hover .play-btn {background:url("https://images.eonline.com/static/uberblog/images/play-btn-over.png") no-repeat scroll 0 0 transparent;}
#e-online-video-wrapper .title {display:block;color: #FFFFFF;font-family: "Din Web Condensed",Arial,Sans-Serif;font-size:36px;font-weight:normal;line-height:1;margin:0px 0px 0px 0px;padding:10px 0px 5px 10px;text-transform:none;width:510px;}
Kim Kardashian Takes A Break From Kanye West, Promotes Diet Pills In London