Exclusive
Jonathan Cheban Flour-Bombed In NYC: See The Video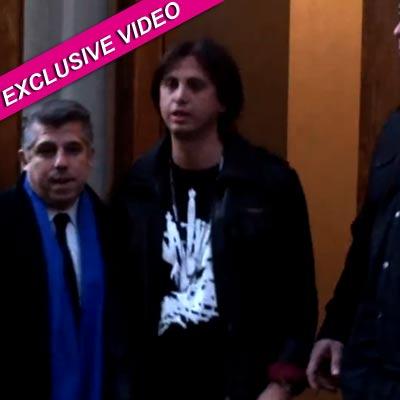 Kourtney & Kim Take New York co-star Jonathan Cheban got flour-bombed by an apparent fan of Kris Humphries and RadarOnline.com has obtained the exclusive video footage.
Cheban was shaken after a mystery assailant threw the flour bomb at him -- yelling, "This is for Kris Humphries!" -- as he exited the Kardashian-owned Dash boutique in Manhattan last week.
Cheban was snapped in a car following the incident, with his black denim jacket and jeans covered in white flour.
Article continues below advertisement
The Humphries reference is alluding to the feud brewing between Kim Kardashian's best pal and estranged husband, after the jock reportedly accused Cheban (on the show) of being gay, because he never hooked up with Kim at any point during their friendship.
As RadarOnline.com was first to report, Cheban is considering filing a $5 million lawsuit against Humphries over the accusation.
"Jonathan was offended," a pal close to Cheban told RadarOnline.com. "He is not gay and Kris' comments were derogatory, a slur against his character and given it's being broadcast on a program that airs internationally, it has the potential to cause serious damage to Jonathan's reputation."