How Very Don Draper! Jon Hamm Hitting Up Bars & Flirting, No Sign Of Girlfriend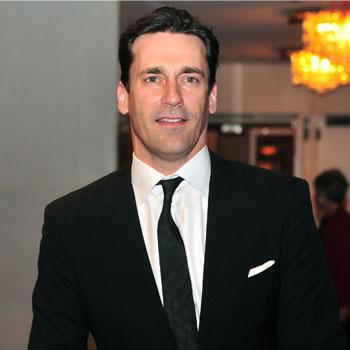 Mad Men star Jon Hamm has been giving his on screen character Don Draper a run for his money recently, hitting up a number of bars and flirting with a bevvy of beauties.
The St. Louis-born stud, who plays the renown womanizer on the AMC hit, has been in a relationship with girlfriend Jennifer Westfeldt for the past 15 years, but that hasn't stopped him from painting the town red at every stop this summer, according to The Daily.
Article continues below advertisement
First, the affable Hamm chatted up a sexy blonde at a party following the MLB All-Star Game at Kansas City.
The woman said the veteran actor "was super nice" and that "many, many of her friends are jealous of" a pic she took with the TV hunk.
Soon thereafter, Hamm and Italian actress Anna Safroncik appeared flirty and physical at a Bulgari dinner July 13 in Rome.
And on Thursday, Hamm hit the town at Brooklyn, New York's Hot Bird bar, where he took up with a tall, sexy blonde who was overheard saying, "He didn't even really want to go out, but I convinced him."