David Geffen Pays $54 Million For Denise Rich's NYC Apartment - Take A Peek Inside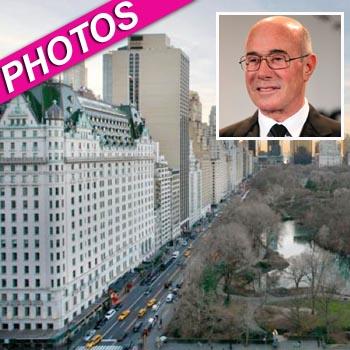 Dreamworks co-founder David Geffen is shelling out $54 million for a spectacular Manhattan apartment now owned by almost-a-billionaire songwriter Denise Rich.
As RadarOnline.com previously reported, the Grammy-nominated socialite listed the duplex in January for $65 million.
That was right after she renounced her citizenship in a move that will save her millions in taxes.
The apartment is a massive 12,000 sq. ft. duplex with a 3,000-plus square foot roof terrace and six smaller terraces all with stunning views of Central Park.
Article continues below advertisement
There are seven bedrooms, nine baths, and three -- count them! -- three kitchens, a gym, and a living room that's the size of the average house.
All that will change however. Geffen is reportedly planning two years worth of renovations -- essentially gutting the place and starting all over.
The record-exec-turned-movie mogul already has an apartment in the same building, on the floor below, but will reportedly sell that off when he moves into his new unit.