Ex-Wall Street Trader Dies In Court Moments After Arson Conviction, Suicide Pill Suspected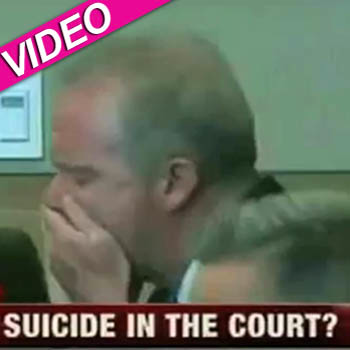 By Debbie Emery - RadarOnline.com Reporter
An ex-Wall Street trader collapsed and died in a Phoenix, Arizona court just minutes after being convicted of arson in what investigators think was suicide by a poison pill.
Michael Marin's unexpected death was a shocking conclusion to a bizarre case that has played out like an Alfred Hitchcock script since 2009, when he allegedly burned down his massive mansion to escape crippling mortgage payments, reported the Arizona Republic.
Article continues below advertisement
The 53-year-old former high roller apparently couldn't face the prospect of 16 years in prison and instead chose to take his own life in a premeditated move.
Video of the sentencing in the Maricopa County Superior Court on Thursday shows him popping a mystery pill into his mouth seconds after the verdict was read, which caused his body to be wracked with fatal convulsions. By the time he was wheeled out on a stretcher by the Phoenix Fire Department, he had already lost consciousness and turned grey.
Marin's high profile demise mirrored his extravagant life, which included graduating from Yale University, scaling Mount Everest, flying small planes and even penning books.
After amassing a huge personal fortune, business problems led him to lose it all, and in the year before the fire his bank account shrank from $900,000 to just $50, which in no way could cover the $17,250 monthly mortgage bills or the balloon payment of $2.3 million.
Article continues below advertisement
According to Deputy Maricopa County Attorney Chris Rapp, he also paid $2,500 per month for the mortgage on a second home in nearby Gilbert, where he actually lived, and had an overdue tax bill of $34,000.
Marin had tried to set up a raffle to pay off the sky-high debt, and when that was deemed illegal the mansion suddenly and suspiciously burned to the ground.
Toxicology reports will not be available for at least two weeks, but investigators say that the evidence is leading towards suicide.
"We will obviously contact family to see if this is something he hinted at doing, maybe he left a note you know, it just needs to be thoroughly investigated then hopefully we'll find out why he did it and what he did," said MCSO spokesman Jeff Sprong.
"This is something new that I've never seen and I'm sure the courts haven't seen it, I'm sure they'll do everything they can do to ensure it doesn't happen again."