L.A. Arson Suspect In Court, Plus New Details About Mother's Checkered Past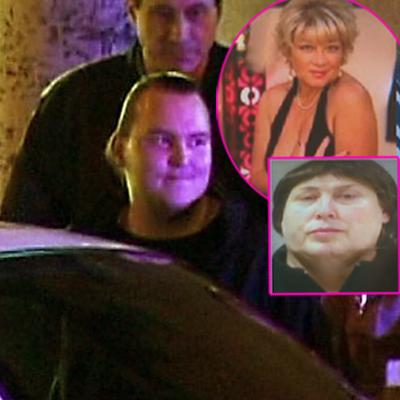 Harry Burkhart, the 24-year-old German man suspected of causing $3 million in damage after setting more than 50 fires throughout Los Angeles, will face a judge Wednesday, as we learn new details about his relationship with his mother Dorothee, and her own checkered personal history involving fraud -- and breast augmentation surgery!
Officials believe Harry torched dozens of parked cars in carports after Dorothee's court appearance last week for an extradition hearing tied to 19 counts of fraud she was charged with in her native Germany in 2007, including an unpaid breast-augmentation surgery in 2004.
Article continues below advertisement
Dorothee -- who runs an erotic massage parlor in Hollywood -- was taken into custody December 28 on a provisional arrest warrant, and Harry was present at the hearing to determine whether or not she'd be extradited to Frankfurt to face the fraud charges. At one point, Harry said "F--- the United States!," according to Thom Mrozek, a spokesman for the U.S. attorney's office. Mrozek said the son was detained and ejected from the courthouse following the profane outburst.
Harry was finally arrested early Monday when authorities located his minivan near the Sunset Strip. Authorities speaking under anonymity told the AP they believe the son's rage at his mother's legal woes triggered the fiery spree he's accused of.
In an extradition hearing Tuesday, Dorothee repeatedly asked presiding judge, U.S. Magistrate Judge Margaret Nagle, "What did you do to my son?… Where is he? Dead?"
Article continues below advertisement
"I'm not here to address anything related to your son," the judge replied, adding, "I'm sure he has not disappeared."
Both Burkharts, who lived together in West Hollywood, are currently being held in custody with no bail.
The case has received intense media coverage in Germany, where the media has dubbed Harry "The Hollywood Feuerteufel," which translates to "The Hollywood Fire Devil."
Music icon Jim Morrison lived in one of the houses damaged in the fire spree.