Hollywood Arson Fires Continue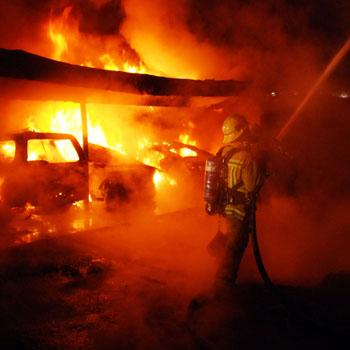 Another 10 arson fires were set in Los Angeles Saturday morning, bringing to 32 the number of blazes now under investigation by fire officials. The latest group were all in North Hollywood.
Friday night, there was one more fire set in West Hollywood, in the same area where the first batch of 21 went up Thursday night and Friday morning.
Most of the infernos started with cars being set afire. They quickly spread to nearby houses and apartment buildings.
Article continues below advertisement
One man has been arrested, although he's not yet been charged. "It's too early to say whether we have a copycat," Captain Jaime Moore, of the Los Angeles Fire Department said.
As RadarOnline.com previously reported, the house where legendary rocker Jim Morrison once lived is among those destroyed. It's believed to have inspired his song, Love Street.
"We believe it's a good possibility that the individual responsible for the fires this morning is responsible for the fire that occurred tonight," Moore said Friday night.