Thomas Kinkade's Mistress Claims His Estate In Handwritten Will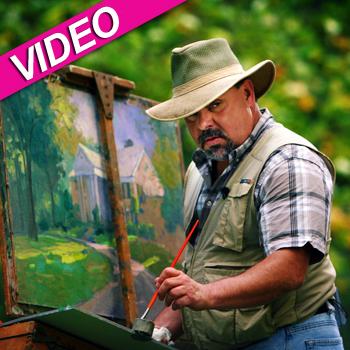 By Amber Goodhand - RadarOnline.com News Editor
Thomas Kinkade's mistress produced a sketchy, hand-written will on Tuesday that she claims entitles her to the painter's mansion and more than $10 million, RadarOnline.com has learned.
Since Thomas passed away in April his estranged wife Nanette Kinkade and his mistress, Amy Pinto-Walsh, have been embroiled in a heated struggle for his estate.
"I, Thomas Kinkade, being of sound mind and body do hereby bequeath to Amy Pinto Walsh $10,000,000 in cash from my corporate policy," the paper, signed November 18, 2011, reads.
Article continues below advertisement
It goes on to state that Amy will inherit his two properties on Ridgecrest Avenue "for her security."
But Nanette argues it is unclear if it's a legitimate will written by Thomas, and if so, what state his mind was in when he wrote it.
ABC 7 News was in San Jose, Calif. on Tuesday where they said Nanette was going to request a private arbitration hearing — and called Amy a "gold-digger" who is only out to rip off the estate — while the mistress wants a public hearing so she can clear her name.
As RadarOnline.com first reported, those close to the Painter of Light say he planned on marrying Amy as soon as his divorce with Nanette was finalized.
"Amy was already part of his circle of friends and that really enraged Nanette. She was furious and humiliated that he not only cheated on her, but moved on so quickly and publicly with her," an insider revealed.
"Nanette is doing everything she can to make sure Amy won't get a dime, mostly out of spite," the insider told RadarOnline.com.