Artist Thomas Kinkade Dies At 54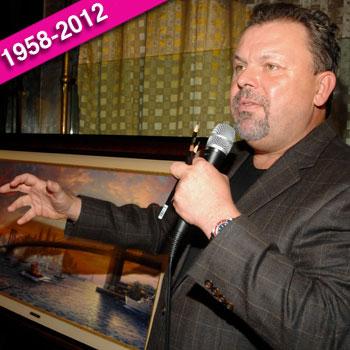 One of the most commercially successful painters of all time, Thomas Kinkade is dead at age 54.
Known as the Painter of Light, Kinkade died at his Los Gatos, California home on Friday.
Kinkade's paintings, which were reproduced on everything from postcards, calendars and coffee mugs, depicted scenes of a light-filled America with an emphasis on home, hearth and church.
His scenes of country gardens and landscapes in the morning light were beloved by many -- and are estimated to hang in 10 million American homes -- but were soundly criticized by the art establishment.
Article continues below advertisement
Kinkade was not without controversy.
His companies have been plagued by lawsuits for the last decade, and in that time the number of his franchised galleries fell by 50 percent.
In 2010, Pacific Metro, the production company that manufactured much of Kinkade's output, filed for bankruptcy, The Wall Street Journal reported. The filing came a day after the company was supposed to make a $1 million payment to two gallery owners in connection with a lawsuit.
MORE ON:
Celebrity Justice