Exclusive
Sneak Peek Of Overtone's LA Photo Shoot!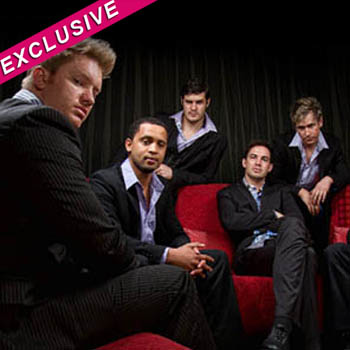 Overtone is one of the hottest new bands to hit the U.S. in a long time -- and Radaronline.com has an exclusive sneak peek of the hunky lads' recent L.A. photo shoot with celeb photographer Josh Williams.
The band has come a long way since their 2006 debut. The South African musicians were discovered by Dina Eastwood -- Clint Eastwood's wife -- while shooting the movie Invictus on location.
Article continues below advertisement
Dina loved them so much they were asked to do the majority of the movie sound track and Overtone now reside in California with Dina as their full time manager.
As if that lucky break wasn't enough, they are now featured on Dina's hit new reality show Mrs. Eastwood & Company which airs Sundays on E! at 10 p.m.
Watch the guys as they prep and get ready for their big event exclusively, right here on RadarOnline.com!
Clint Eastwood's Wife Opens The Door To Their Lives In New Reality Show