Famed Writer/Director Nora Ephron Dies At 71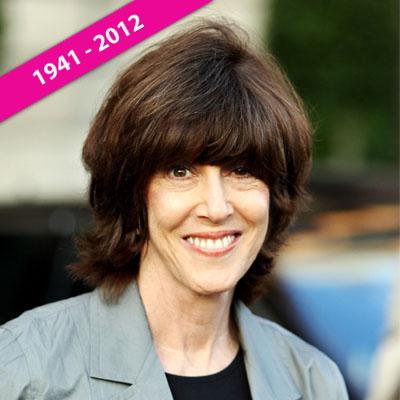 Nora Ephron, the celebrated writer/director of hits such as Julie & Julia, Sleepless in Seattle and You've Got Mail, died at 71 Tuesday at New York's Presbyterian/Weill Cornell Medical Center after a battle with leukemia, according to her family.
Ephron -- a journalist and best-selling author prior to her screen career -- was married three times. At the time of her death, she was married for more than 20 years to screenwriter Nicholas Pileggi, with whom she lived in New York City.
Article continues below advertisement
From 1976 to 1980, she was married to her second husband, Watergate whistleblower Carl Bernstein. She wrote the book Heartburn based on her relationship with the famed Washington Post reporter. Meryl Streep and Jack Nicholson starred in the film adaptation.
Across Hollywood, tributes poured in for the versatile scribe, who was nominated for three Academy Awards in the screenwriting genre for Silkwood, and the iconic romantic comedies When Harry Met Sally … and Sleepless in Seattle.
Nora "knew what was important to know," Tom Hanks said. "How things really worked, what was worthwhile, who was fascinating and why. At a dinner table and on a film set, she lifted us all with wisdom and wit mixed with love for us and love for life."
"I am very sad to learn of Nora's passing," said Billy Crystal. "She was a brilliant writer and humorist. Being her Harry to Meg's Sally will always have a special place in my heart. I was very lucky to get to say her words."
Article continues below advertisement
Carrie Fisher said Nora "was so, so alive … it makes no sense to me that she isn't alive anymore.
Watch the video on RadarOnline.com
"I suppose you could say Nora was my ideal -- in a world where we're told that you can't have it all, Nora consistently proved that adage wrong. A writer, director, wife, mother, chef, wit … there didn't seem to be anything she couldn't do."
Bette Midler tweeted: "Nora Ephron. The Hostess with the Mostest on the Ball. A brilliant soul, and we will all miss her so...."