Exclusive
John Travolta Sex Scandal: Former Lawyer Claims Settlement Offer Was Made!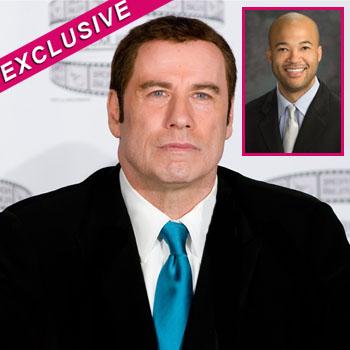 Article continues below advertisement
DOCUMENTS: Okorie Okorocha Files Declaration
Okorocha alleges that John Doe #2 emailed him on May 17, 2012 and informed him that he was off the case, and that the masseur had hired the famed civil rights attorney. He accuses Allred of "criminal activity," but she has already filed legal missive asking for the lawsuit against her to be dismissed.
Travolta's lawyer, Marty Singer, has vehemently denied all allegations made against his client.
Two weeks after the masseurs hired Allred, RadarOnline.com exclusively reported that one of the men was in settlement talks with Travolta with a source close to the situation saying, "The goal is to have a settlement reached very quietly and quickly because John just wants this scandal to go away.
"No money has been paid yet, but it's almost a done deal. It will be an out of court settlement and John Travolta's name won't even be in the agreement to ensure complete confidentiality, along with a clause that states if the man ever goes public with his story, he will be sued for at least twice the amount of the settlement."
Article continues below advertisement
Okorocha is claiming Allred stole his clients, and the settlement, but Allred maintains that the men came to her on their own will.
"After Mr. Okorocha publicly stated that I had solicited John Doe 2 as a client, John Doe 2 notified Mr. Okorocha in writing that he was wrong and that it was exactly the opposite of what he had stated," Allred told RadarOnline.com.
"In fact, John Doe 2 contacted us and not the other way around. John Doe 2 further urged Mr. Okorocha to withdraw and retract his false statements about this law firm. Instead, Mr. Okorocha filed his lawsuit."