Great-Grandmother Gets Boob Job And A Boy Toy To Fulfill Husband's Dying Wish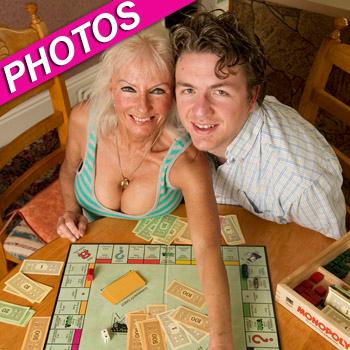 Great-Grandmother Joan Lloyd, 66, has found love with a 28-year-old boy toy after fulfilling her dying husband's last wish for her to get a boob job.
The Welsh former model - who has 13 grandchildren and seven great-grandchildren - went under the knife and upped her assets from an A to an F cup after her hubby died in 2010.
Now she has found love again too after bonding with unemployed Phil Absolom, who is 38 years her junior - something she says her husband also wanted.
Article continues below advertisement
"Before he died David told me to get a boob job and a toyboy after his death," said Joan who met Phil on Facebook.
"He said, 'Get your boobs sorted out. They're not as good as they used to be.' I know that he would be proud of me now."
Joan and Phil now live together in the house she used to share with her husband and she insists despite her age, her young lover keeps her youthful.
"Phil is a great lover and I can't get enough of him," said Joan who says she has the full support of her four children.