George Zimmerman Told Wife To Transfer Money In Jailhouse Calls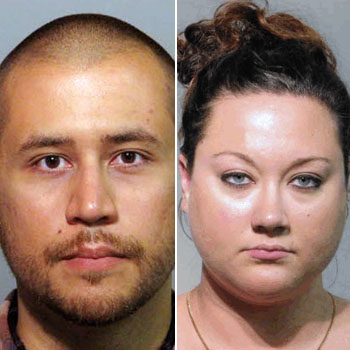 New jailhouse recordings released on Monday reveal phone calls between George Zimmerman and his wife Shellie in which he's heard directing her how and where to transfer their money, RadarOnline.com is reporting.
In the six phone calls, released by prosecutor Angela Corey, George is heard instructing Shellie on how to change account passwords and clear security questions so she can access and move around money in their accounts.
Article continues below advertisement
Shellie was arrested on June 12 on perjury charges when she "knowingly made a false statement" during George's bail hearing in April — leading the court to believe the couple was low on funds.
In early April George created a website asking his "supporters" for monetary donations for "living expenses" and prosecutors allege he then had his wife move around the donations, which reached about $155,000, to keep his bond low.
"Oh, man, that feels good," George told his wife in one of the calls about the support received on the website.
"What?" asked Shellie.
"That there are people in America that care," he said.
"Yeah they do," she answered. "Trust me, and boy, after what happened yesterday, so many people…your website kept crashing."
According to bank statements released on Monday, numerous transfers were made between the site's PayPal account and George and Shellie's bank accounts — all careful to stay under $10,000 to avoid red flags, at $9,900 or $9,999.
Article continues below advertisement
References to "Peter Pan" in the calls between George and Shellie are thought to be a code term for PayPal.
"After all this is over, you're going to be able to have a great life," Shellie told George in one of the calls.
"We will," he corrected her. "I'm excited."
In another call George is heard asking his wife to get bulletproof vests for himself, her, their attorney Mark O'Mara and also talks of how they will safely get him out of jail when he's released.
"Well, I have my hoodie," George joked in what may have been a reference to the hoodie Trayvon Martin was wearing the night he was killed.
George was sent back to jail and his bond revoked at the beginning of June when it was discovered he lied about his finances, and prosecutors used the jailhouse calls as proof.
George has a new bond hearing on June 29.
RELATED STORIES: