Exclusive
Gabriel Aubry To Halle Berry: Don't Move To Paris With Our Daughter, Try Malibu!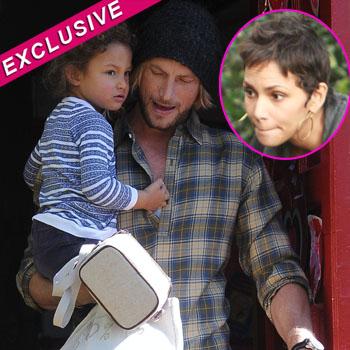 By Jen Heger - RadarOnline.com Assistant Managing Editor
Halle Berry's baby daddy, Gabriel Aubry, is fighting her proposed move to France with their daughter, Nahla, and the Canadian model has suggested that the Academy Award winning actress move permanently to Malibu, where their daughter can safely go to public school, like Cindy Crawford's kids, RadarOnline.com is exclusively reporting.
Berry, 45, wants to move to France with Nahla and her fiancé, Olivier Martinez, because the actress says she's fearful of the paparazzi. Aubry is fighting the move and a very contentious custody trial is scheduled to begin in the next few weeks.
Article continues below advertisement
"Gabriel's lawyers will discuss the idea of Halle moving to Malibu permanently at the custody trial," a source close to the situation tells RadarOnline.com. "She already has a house there and she never seems to have any problems with the paps photographing her in a bikini with Nahla.
"There is a gated community in Malibu that Halle could buy a house at if she wanted an extra layer of security. Gabe wants Nahla to have as normal a childhood as possible and thinks Nahla could even go to public school in Malibu. Cindy Crawford's kids are in public school there, and no one ever bothers them. Again, if Halle truly feared for her safety she could hire a bodyguard to fend off any potential problems. Moving to another country to get away from them doesn't make sense to Gabriel. Yes, Halle is followed at times, but she isn't Princess Diana!"
Meanwhile, as RadarOnline.com previously reported, the custody evaluation report slams both parents!
"The report minces no words and outlines in detail the fact that Halle and Gabriel can't get along," an insider previously told RadarOnline.com. "They had a very bitter break-up and there are lingering issues of anger and mistrust of BOTH parents. The person that this is hurting is of course Nahla. She loves both of her parents very much and there is absolutely no question that Gabe and Halle are devoted to their little girl.
Article continues below advertisement
"The report asserts that as the little girl gets older, if her parents aren't able to get along, it could have a very negative impact on her life. The independent child psychologist again emphasized that Halle and Gabe need to come together to co-parent Nahla and get over the past, period. Nahla is a very well adjusted little girl, who has a very sweet disposition, and is very mature for her age. Both parents could learn a lot from her."
Gabriel Aubry Preparing For Custody Battle, 'Isn't Scared' Of Halle Berry's New Attorney