Dharun Ravi, Ex Rutgers Student Jailed In Gay Roommate's Suicide, Leaves Jail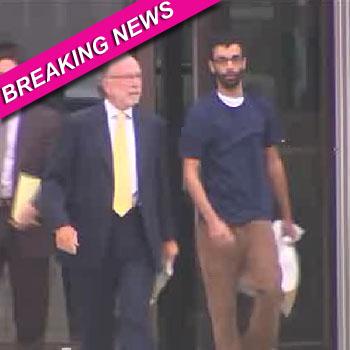 Dharun Ravi -- the former Rutgers University student convicted of bias for using a webcam to secretly watch his gay roommate Tyler Clementi kiss another man -- was released from jail Tuesday after serving 20 days of a 30-day sentence.
The once clean-shaven Ravi -- now sporting a beard he grew while behind bars -- did not speak to reporters as he left the Middlesex County in New Jersey jail around 8:30 a.m. ET; he was picked up by his attorney Steven Altman, who whisked him away from cameras.
Article continues below advertisement
As RadarOnline.com has previously reported, the 20-year-old Indian American student was convicted in March of 15 criminal charges, including bias intimidation, invasion of privacy and tampering with a witness for using a web camera to spy on Clementi and another man. When Clementi discovered Ravi had witnessed his tryst, he committed suicide. He was 18-years-old. (Ravi was not directly charged in connection with Clementi's death.)
Ravi reported to jail on May 31, although he could have remained free while his case is being appealed.
A judge sentenced the former sophomore to 30 days in jail, far less than the 10-year prison sentence he could have handed down. Ravi still faces three years of probation, plus more than $11,000 in fines and assessments, 300 hours of community service, and counseling.
Like other county jail inmates, Ravi automatically received five days off for good behavior and five days for working in the jail.
Article continues below advertisement