President Obama: 'Bullying Is Wrong, Destructive, And We Can All Prevent It'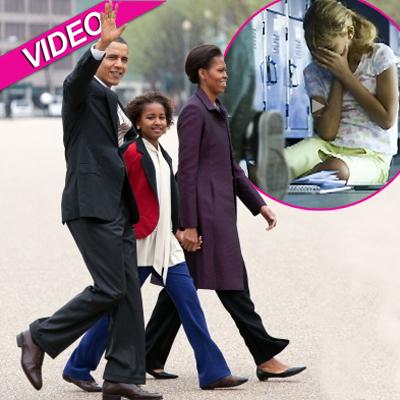 President Barack Obama addressed bullies and their victims Sunday while introducing To SPEAK UP Against Bullying, the Cartoon Network's 30-minute documentary detailing the ills of the epidemic that's captured the nation's attention since the high-profile suicides of youth such as Rutgers student Tyler Clementi and Buffalo teen Jamey Rodemeyer.
"Bullying is not a rite of passage or harmless part of growing up," the commander-in-chief said. "It's wrong. Its destructive and we can all prevent it."
Article continues below advertisement
The father of two daughters, Sasha and Malia, said he cares "about this issue deeply, not just as the president, but as a dad."
Watch the video on RadarOnline.com
He noted that The White House -- who estimates 13 million children are picked on each year -- has made pacts "with schools and parents to raise awareness" against the epidemic, which has taken a new and cruel twist in this day and age of social networking, as evidenced in both of the aforementioned cases.
"Everyone has to take action against bullying," he said. "Everyone has an obligation to make our schools and our communities safer for all our kids."
The Most Surprising 3-Minute Wedding Ever
The network said To SPEAK UP Against Bullying aims to convey "the authentic, everyday stories of America's bullied kids and the youth who have helped them" and "seeks to empower all kids to take part in the growing movement to help bring an end to bullying."
Article continues below advertisement
In related news, the hammer on Friday fell on ex-Rutgers University student Dharun Ravi, who was found guilty of bias, invasion of privacy, hindering apprehension and witness tampering in the trial connected to his live streaming of his roommate Clementi's sexual encounters, leading to the latter's suicide at 18. Ravi could get up to 10 years in prison when he is sentenced May 21.