Rutgers Roommate Does Not Feel Responsible For Tyler Clementi's Suicide, 'He Had Bigger Problems In His Life'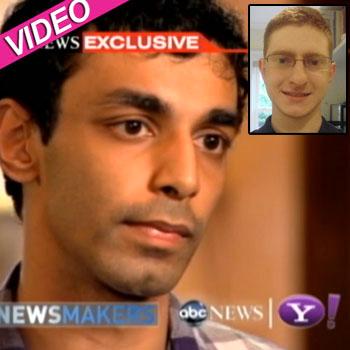 By Debbie Emery - RadarOnline.com Reporter
The former Rutgers student convicted on charges of spying and bullying his gay roommate and driving him to suicide claims that it was not his fault that Tyler Clementi jumped off New York's George Washington Bridge.
"Even though I wasn't the one who caused him to jump off the bridge, I did do things wrong and I was stupid about a lot of stuff," Dharun Ravi, 20, revealed in an interview with ABC's 20/20.
Article continues below advertisement
As RadarOnline.com previously reported, it took a jury two days of deliberations to find Ravi guilty on all the major counts in connection with Clementi's February 2010 death, he now faces up to ten years in prison.
Despite the resounding success by the prosecution in the case, he doesn't think he is to blame for Clementi's premature death though, claiming that what he learned about Tyler during the case convinced him that the 18-year-old's suicide wasn't prompted by the webcam footage of him having sex with another man.
"The more and more I found out, it would be kind of obnoxious of me to think that I could have this profound effect on him," Ravi claimed.
"After all this time and reading his conversations and how and what he was doing before, I really don't think he cared at all. I feel like I was an insignificant part to his life. That's giving me comfort now."
Ravi went on to reveal that Clementi left a suicide note that has not been made public.
Article continues below advertisement
"The fact that we weren't allowed to read it, that they said it didn't have anything to do with this, that gave me comfort also because I figured if it has nothing to do with me…it must have been something else that was going on," he said.
"He didn't even care about this… He had bigger problems in his life."
Dharun said the most annoying aspect of the tragedy is that Tyler never got the text or e-mail he sent apologizing for spying on his sexual trysts as they were sent as he was getting ready to plunge off the bridge.
"It was very frustrating to think I didn't get a chance to say anything to him. To this day, I just say you know what, I'll just think he read it and he got it and I'm going to accept that as that's what happened. At least he had to hear what I had to say."
Along with a five to ten year jail sentence, the native of India could have his green card repealed and be deported back to his homeland, a fate that could have been prevented if he had taken a plea deal.
Article continues below advertisement
"I had to go up there in front of a judge under oath and say I intimidated Tyler because of sexual orientation — (to say that) I did this because I had this hate for gay people," he said. "I don't hate gay people."
"Looking back, I was very self-absorbed with the whole thing. It was never, 'What if Tyler finds out, how's he going to feel about it?'" he said. "I was 18, I was stupid, I wouldn't think about my actions beyond a minute into a future. I was a dumb kid not thinking about it."
The case has brought the movement against the bullying of gay teens into the country's consciousness, with President Barack Obama releasing a videotaped message less than a month later condemning such actions, and the high profile nature of it Ravi believes has led him to be made an example of.
"So much worse happens. Kids actually get bullied and actually go through stuff much worse than this," said the convicted criminal, who doesn't think he should go to prison.
Article continues below advertisement