Exclusive
Casey Anthony's Journals Could Be Made Public During Upcoming Trial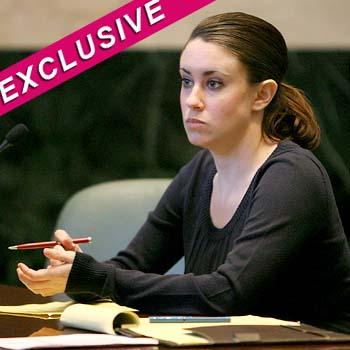 By Jen Heger - Radar Assistant Managing Editor
Casey Anthony has been keeping a journal since she was locked up for the death of her two-year-old daughter, Caylee, and there is a possibility that her deepest thoughts could now be made public, RadarOnline.com is exclusively reporting.
As we previously reported, Anthony has been in hiding in Florida since she was acquitted of murder, but has recently been making forays back out in to the public, virtually unrecognizable due to the amount of weight she has gained.
Article continues below advertisement
Zenaida Gonzalez, currently embroiled in a legal battle with Casey, is suing her for defamation after the notorious "Tot Mom" told cops that a woman with a similar name to Gonzalez's had kidnapped Caylee.
"Casey is going to be grilled by Zenaida's lawyers about her journals because they believe that Zenaida is mentioned in them and that is relevant information that the jury needs to hear," a source close to the situation tells RadarOnline.com. "Zenaida's lawyers could ask that Casey's journals be admitted into evidence so the jury could read and review during jury deliberations. It's expected that Casey's attorneys are going to vehemently oppose that line of questioning and any action to get Casey's journals in front of the jury."
The Office Star Oscar Nunez Cast As Jose Baez In Lifetime's Casey Anthony Movie
Jose Baez Claims Casey Anthony Will Not Profit Off His Tell-All Book