Seven Things You Didn't Know About The Actress Playing Casey Anthony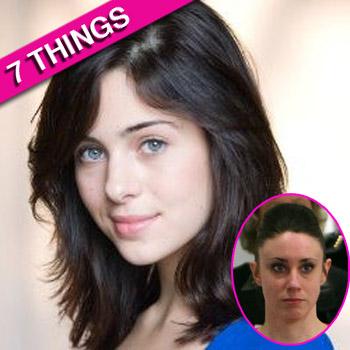 Casey Anthony is one of the most polarizing characters in recent American history with her acquittal last year over the death of her two-year-old daughter Caylee, and now the dramatic story is being portrayed in the new Lifetime movie, Imperfect Justice.
The relatively unknown actress Holly Deveaux will play the 'Tot Mom' and star alongside Rob Lowe who will play the prosecuting attorney Jeff Ashton and Elizabeth Mitchell, who will portray fellow prosecutor Linda Drake Burdick.
Article continues below advertisement
The Office star Oscar Nunez will take on the part of Casey's defense lawyer Jose Baez.
RadarOnline.com has seven things you didn't know about this hot new actress:
7. North Of The Border: The 19-year-old starlet hails from Canada and appeared in the TV shows Less Than Kind and Baxter in her native country.
6. Working Her Way Up: She starred in the TNT movie Silent Witness opposite Anne Heche and Dermot Mulroney in 2011. She has only been acting professionally for three years.
5. Axing Out A-Listers: Deveaux reportedly beat out fan favorites Kristen Stewart, Alyssa Milano and Jennifer Love Hewitt for the part of Casey.
4. Prior Roles: The teen star has appeared in independent films Victoria Day, Wake Me Up, Unlucky and Tile Man.
3. Getting To Work: Deveaux started work on the Casey Anthony film in Winnepeg, Canada this week and although she is an integral part of the movie, the film will focus mainly on the attorneys at the center of the 2011 trial, which led to the controversial not guilty verdict.
Article continues below advertisement
2. Looking The Part: The brunette beauty has a striking resemblance to Casey Anthony and her image will be seen on screen alongside news footage of the real woman who was dubbed the most hated mom in America.
1. This part could be a breakout role for the young actress and open more Hollywood doors for her. She said in an interview last year that she feels "lucky to have been able to do wide variety of roles in the few years I've been acting professionally."