Lisa Vanderpump's Former Beverly Hills Mansion Goes Up In Flames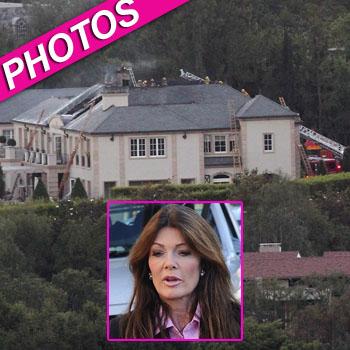 Lisa Vanderpump's former luxury mansion that was featured on The Real Housewives of Beverly Hills has gone up in flames.
The eight-bedroom estate that she sold for $19 million last year was engulfed in a raging blaze for over 90 minutes before firefighters could control it.
Some of the cast members were reportedly across the street at Adrienne Maloof's home filming scenes for the upcoming season when the fire broke out and had to evacuate.
Article continues below advertisement
More than 100 firefighters were on the scene in the elite gated community with one of the officers sustaining injury.
The fire broke out around 6.30 pm Friday with reports that the blaze started in the attic and spread through the roof before ripping through the lower floors.
The 17,000 sq. ft. home was the venue for Lisa's daughter Pandora's wedding earlier this year.
"I'm sorry for the new owners," Vanderpump told NBC4. "I mean, they paid a lot of money for it."