Smacker-Down! Will Smith Lashes Out At Amorous Male Reporter For Kissing Him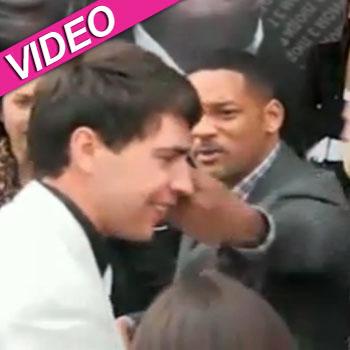 Don't get jiggy with the Fresh Prince!
Even nice guys have their breaking point, and for Will Smith it came when an over-friendly reporter tried to kiss him on the lips.
The amiable Hollywood legend was more than happy to take a cursory peck on the cheek from the affectionate Ukranian reporter at the Moscow premiere of Men In Black 3 Friday night, but did not appreciate it when the man went the extra mile.
Article continues below advertisement
Smith, who is married to Jada Pinkett Smith and is father to Jaden, 13 , and Willow, 11, is renowned as one of the most easy going celebrities around.
He's always happy to interact with reporters when promoting his films.
But when the news gatherer started to get amorous, and brushed against Smith's lips… the father-of-two freaked.
"What the hell is your problem, man?" a visibly angry and shaken Smith says as he violently pushes off the over-friendly 1+1 reporter.
Will later explained: "He tried to kiss me on my mouth. He's lucky I didn't sucker punch him."
Smith has no problem with showing affection to other men, and the actor – who played a gay man in 1993's Degrees of Separation – came out in support of gay marriage earlier this week.
He said: "If anybody can find someone to love them and to help them through this difficult thing that we call life, I support that in any shape or form."
Article continues below advertisement
Will And Jada Pinkett Smith Sell Their Hawaii Estate For $20 Million