Unabomber Updates His Harvard Alumni Status, Lists Occupation As 'Prisoner'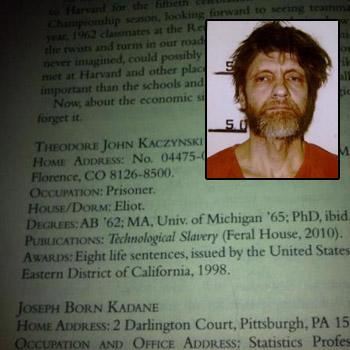 By Debbie Emery - Radar Reporter
Even one of America's most notorious criminals wants to stay in touch with old school friends, and while it's understandably tough for Ted Kaczynski to chat on Facebook, the infamous 'Unabomber' was keen to update his Harvard alumni magazine with his current status.
While most of his former classmates at the Ivy League University are well-aware of their former pal's predicament, Kaczynski enlightened the rest with what has got to be the most bizarre posting the class of '62 has read.
Article continues below advertisement
The 70-year-old's colleagues list their roles in society as "working with inner city kids" or "writing literary essays," but Ted's occupation is stated simply as "prisoner."
As RadarOnline.com previously reported, the Unabomber carried out a deadly mail bombing spree that spanned nearly 20 years, killing three people and injuring 23 others. He dismissed his court appointed attorneys and insisted on defending himself at trial. However, a plea agreement was reached where Kaczynski was sentenced to life in prison with no chance of parole.
His surprise entry into the magazine was tweeted by a fellow Harvard alum, Alex Taussig, who wrote, "Ted Kaczynski's alumni update for his 50 year Harvard reunion. Morbidly amusing."
Instead of the usual penthouses in Manhattan or country homes in New England, under address Kaczynski provides his ID number and the details of the maximum security federal prison in Florence, Colorado where he is destined to spend the rest of his life.
Article continues below advertisement
Not publically known for his sense to humor, the bearded multiple murderer wrote "eight life sentences," when asked what awards he had won, and under "publications" he lists the infamous 50-page script against the modern world, which The New York Times and The Washington Post agreed to print in exchange for Kaczynski's promise to end his bombing campaign.
Before entering into a life of crime, Kaczynski was an exceptional student who was accepted into Harvard at the age of 16. After graduating in 1962, he went on to earn a PhD in mathematics at Michigan University where he specialized in a branch of complex analysis known as geometric function theory, before later becoming a disturbed genius recluse locking himself up in a cabin in the woods.