Move Over Alice Cooper! Tom Cruise Rocks Out On W Cover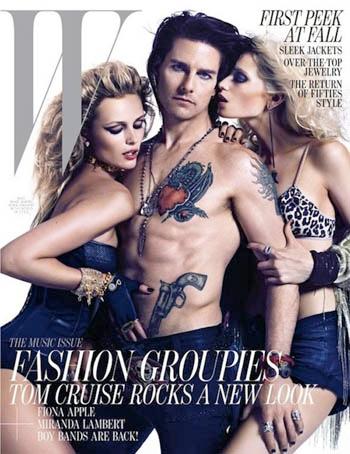 A product of the 80s himself, Tom Cruise channels the look of a heavy metal rocker in these promotional shots touting his new flick Rock of Ages on the cover of June's issue of W magazine.
On June's cover, he's made up by Arianne Phillips with a look that would make Axl Rose proud, clad in tattoos, bare-chested and wearing leather pants.
The 49-year-old star of iconic 80s flicks like Risky Business, Top Gun, Cocktail and Rain Man plays Stacee Jaxx in the musical film. He said he perfected his musical moves made famous by Risky Business long before he was a household name.
Article continues below advertisement
"You know what? I did the scene from Risky Business around the house," he tells the magazine. "I would sing Bob Seger -- my mother worked, my sisters were out, and I'd turn the music up. I learned how to dance watching Soul Train.
"I noticed that if a guy could dance, he'd get a lot of attention and girls would want to dance with him. I worked very hard at imitating those moves."
Rock Of Ages, also starring Russell Brand, Alec Baldwin, Julianne Hough and Kevin Nash, hits theaters June 15.