Exclusive
Sharon Stone Fired Nanny, Then Invited Her To Say Goodbye To The Kids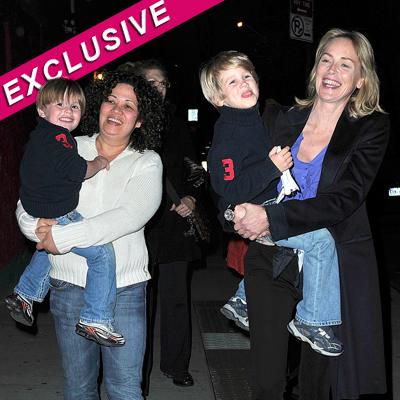 Article continues below advertisement
EXCLUSIVE DOCUMENT: Read Sharon Stone's Letter Firing her Children's Nanny
Elemen also alleges that Stone said Filipino people were "stupid" and wouldn't allow her to have a bible in the house. The former nanny says she would work seven days a week at times, but Stone accused of her "stealing" for getting overtime pay and demanded that Elemen pay her back.
Elemen received the emailed termination letter from Stone on February 8, 2011, and it doesn't list a reason for the firing.
Stone writes, "This email will terminate your employment without cause, as of today, Friday 8, 2011. Thank you for your services. I invite you to come by and say goodbye to Laird and Quinn. Best Regards, Sharon Stone -- See me for a letter of reference. SS"
The nanny's lawyer, Solomon Gresen, tells RadarOnline.com exclusively, "My client has wonderful memories of that time in her life and is deeply saddened by losing that. My client isn't alleging any misconduct by Ms. Stone towards the children."
Article continues below advertisement
Elemen has been unable to find a regular full time job since and was paid very well by Stone, earning around $1,000 a week, according to a source.
On February 16, 2011, Elemen filed a complaint with the California Department of Fair Employment and Housing alleging among other things, harassment, failure to prevent harassment and retaliation.
The suit seeks unspecified damages.
RELATED STORIES:
Pretty, Pretty Good For 54! Sharon Stone's Sizzling Hot Bikini Body