Salma Hayek Feared Her Baby Had Down Syndrome, Husband Reveals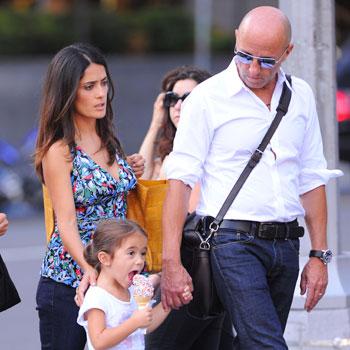 Salma Hayek and her daughter Valentina have been drawn into the sensational child support case being fought by her billionaire husband Francois-Henri Pinault and his ex-girlfriend, supermodel Linda Evangelista.
Evangelista is requesting the court award her a stunning $46,000 a month child support for their five-year-old son, Augie.
Evangelista and Pinault dated from Sept., 2005 to Jan., 2006, and as her lawyer has said the French businessman wanted her to "terminate" her pregnancy and they broke up immediately after she told him she was keeping the baby.
Article continues below advertisement
He began dating Hayek shortly after the split, and she gave birth to their daughter Valentina on Sept. 21, 2007. The couple wed 18 months later.
It was during Salma's pregnancy, Pinault testified that he asked Evangelista not to go public with her claim for support.
Salma was having a "difficult pregnancy," Pinault said. "We were told the baby had Down syndrome until late May 2007. I asked Linda to delay Augie's legal recognition process until after the birth of Valentina."