Attorney Claims Salma Hayek's Husband Wanted Linda Evangelista To Abort Their Baby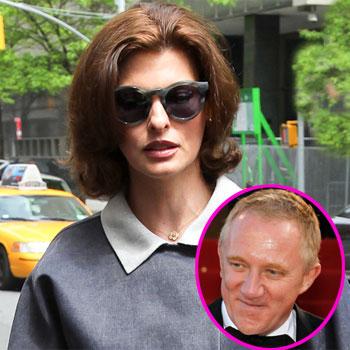 Linda Evangelista's baby daddy wanted her to abort their now-five year-old son, the supermodel's attorney claimed in court on Thursday as the trial took a bitter turn.
The 46-year-old is seeking $46,000 a month in child support for the child she conceived with French billionaire Francois-Henri Pinault, who is now married to Hollywood actress Salma Hayek.
The brunette beauty's lawyer claimed in a Manhattan family courtroom that Pinault "suggested she terminate the pregnancy."
Article continues below advertisement
"She would support the child herself, since he had made it perfectly clear to her that he had no interest in doing so," Linda's lawyer William Beslow said of her reaction to the abortion assertion.
Pinault said he was "not involved in the decision" to have the baby according to the NY Daily News but told the 90s pinup that he would "recognize" the child. He added that they had only spent seven nights together during a four-month timeframe.
"She told me that if I didn't want to be involved in raising the kid or stay together and be parents together, she would understand," Pinault said, adding that he hadn't paid her a dime since the boy was born because, "She didn't ask and I didn't offer."
Pinault runs the successful PPR family firm that has Yves Saint Laurent and Gucci in its portfolio of businesses. His lawyer later denied that Pinault, 49, wanted the pregnancy terminated.
Article continues below advertisement
The New York Post reports that Linda would spend up to $16,000 a month for armed former NYPD officers to chauffeur her child around and $7,000 of the $46,000 requested would be spent on a nanny.
Linda's lawyer added that she wasn't looking to "piggyback her lifestyle on Mr. Pinault" but wanted to "continue the lifestyle that her son has had."
Evangelista's $1.8 million annual salary from L'Oreal came to an end in 2010.
As well as the $552,000 a year for her child, Linda also wants a house of similar value to the $12 million California home that Pinault put in trust for his four-year-old daughter Valentina whom he shares with Hayek.
The supermodel once famously said that she would not get out of bed for less than $10,000 a day. The trial will continue into next week and may result in one of the largest child support payments the state has ever seen.