Exclusive
Ryan O'Neal's Son Redmond Pleads With Him: 'Please Stop Talking About Me!'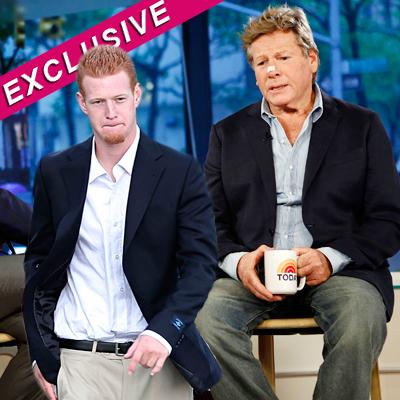 Article continues below advertisement
During the interview, O'Neal was asked by Matt Lauer about an incident that the actor chronicled in his book in which a then six-year-old Redmond begged his parents to stop fighting and threatened to stab himself with a knife if they didn't.
"Redmond talked to his father on the phone on Tuesday and asked his dad to stop talking about him during interviews," a family source tells RadarOnline.com.
"Redmond isn't a public figure, he shuns the spotlight and is extremely shy, and just wants to keep his private life out of the public domain. Luckily, Redmond is in a safe place right now and can deal with his feelings in a healthy and controlled setting. Redmond's complex relationship with his father is one of his triggers in his drug use. Redmond is going to need to come to grips with the fact that his father isn't going to change and will need to set boundaries."
"Were you a bad parent?" Lauer asked the Love Story star, who said contritely, "Looks like it, doesn't it? Sure looks like it … I suppose I was."
Ryan said he "wasn't trained" to be a father, and can't continue to be held accountable with his children as they are now all adults. "Griffin is 45, Tatum is 49, who's the other one? Redmond is 27. They have to take hold of their own existences," he said.
Article continues below advertisement
As RadarOnline.com previously reported, Redmond and Tatum don't think their father's memoir is an honest account of their relationship with him.
"Redmond absolutely hates the press and just wants to live his life out of the spotlight," the source says. "He is trying to stay sober and having his father out there talking about his life isn't helping Redmond. He just wants Ryan to shut up about him," the insider says.