Ryan O'Neal On Battling Cancer: If I Die, I'll Be With My Girl Farrah Fawcett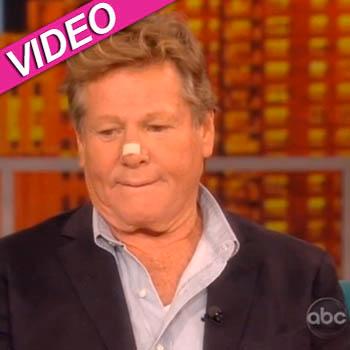 On Tuesday's edition of The View, Ryan O'Neal opened up with a frank look at his mortality as he battles stage 2 prostate cancer, as well as sharing anecdotes about his late love Farrah Fawcett.
Ryan looked weary with his nose taped up after a recent procedure, as well as having part of his prostate frozen. He said he's not afraid to die, and if he dies, he'll be with his girl, referring to Fawcett, who died of cancer in 2009.
Article continues below advertisement
"I love her so much, it hurt my heart, I love her so," the actor said, adding he's not afraid of death.
Ryan said in Farrah's final hours, he climbed into bed with her after doctors removed all sustenance.
"I climbed into bed with her and I asked for forgiveness," he said. "I said please forgive me."
O'Neal said despite the grave illness, Farrah maintained her poise and composure in her darkest moments.
"There was something so deeply profound about her and proud," the Love Story star said. "There wasn't a day I didn't love her."
The actor also chatted about his daughter Tatum O'Neal, and that they're doing "pretty good" right now. He joked he felt the relationship was "blessed" by Oprah Winfrey when he and Tatum had a show on her OWN network.
As RadarOnline.com previously reported, in a sad segment earlier in the day on Tuesday's TODAY show, the one-time Hollywood hunk came off as a broken man, admitting his failure as a parent and his profound loneliness without Farrah.
Article continues below advertisement
The subject of his kids came up and it made for extremely uncomfortable TV: The father-of-four -- Patrick, Tatum, Griffin and Redmond -- was honest in assessing his accountability in the the addiction issues of the latter three, and past jail histories of the latter two.
"Were you a bad parent?" Matt Lauer asked O'Neal, who said contritely, "Looks like it, doesn't it? Sure looks like it … I suppose I was."
Ryan said he "wasn't trained" to be a father, and can't continue to be held accountable with his children all adults.
"Griffin is 45, Tatum is 49, who's the other one? Redmond is 27. They have to take hold of their own existences."
He joked, "Even with those kids ... I never suffered a panic attack."
The 70-year-old's recollection of his final days with Farrah is chronicled in his memoir, Both of Us, My Life With Farrah.
Article continues below advertisement