Rihanna Drops Chris Brown From Twitter After He Releases Vulgar Rap, He Says She 'Feels Guilty'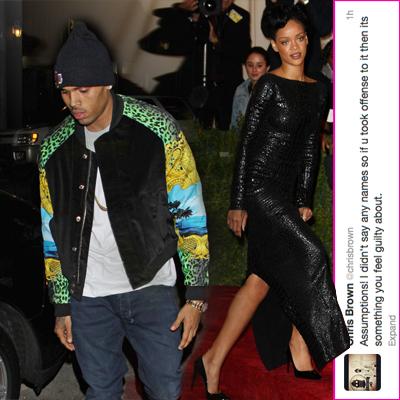 Rihanna stopped following her troubled ex Chris Brown on Twitter, RadarOnline.com has confirmed.
Chris, 23, released a remix to Kanye West's hit Way Too Cold (TheraFlu) late Wednesday night in which he negatively raps about an ex — and not soon after, Rihanna dumped him from Twitter.
"Don't f**k with my old b*tches, like a bad fur, every industry n*gga done had her," Chris raps.
Article continues below advertisement
"Trick or treat like a pumpkin, just to smash her."
Now Chris is no longer following Rihanna on Twitter and posted a message early Thursday morning aimed at the Barbados beauty.
"Assumptions! I didn't say any names so if u took offense to it then its something you feel guilty about," he wrote.
Just two months ago the former couple collaborated on two remixes of their songs, Birthday Cake and Turn Up The Music.
Do you think their feud will last, or the two will reconcile…again? Leave your comments below…
RELATED STORIES:
Rihanna Who? 'Head Over Heels' Chris Brown And Karrueche Tran Share A Passionate Kiss
Is Rihanna Switching Teams? Tweets Of 'Date Night' With Female 'Lover'
Adele, Rihanna, & Middleton Sisters Headline Time's Most 100 Influential List
Rihanna's A Hawaii 1-0! Sexy Singer Shows Off Everything In New Photos