Friends Urging Hard Partying Rihanna To Head To Rehab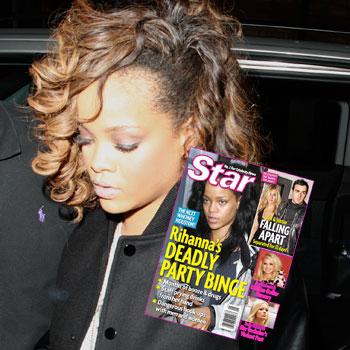 Rihanna was taken to the ER and hospitalized following Monday night's Met Gala in New York, RadarOnline.com has learned, and a new Star magazine report blows the lid off the downward spiral the singer's headed for if she doesn't change her ways.
The Umbrella singer tweeted a pic of herself hooked on an IV, MediaTakeOut reported, adding she was discharged shortly thereafter and sent back to Los Angeles, where she owns a home.
Article continues below advertisement
The 24-year-old singer makes no bones about her fast-living, party-hard lifestyle, frequently tweeting images of herself enjoying the nightlife and all of its' accruements.
Rihanna Hospitalized After Met Gala; Partying A Growing Concern?
"Rihanna loves to party but this past month she's gotten really out of control," a source tells the new issue of Star magazine. "She's been drinking almost everyday and talking about smoking weed a lot, too."
The past few months have been a gauntlet of late nights and exotic locales for the Barbadian beauty, who's been seen in London, Sydney, Hawaii and New York. During a May 2 trip to the Big Apple, she tweeted a raucous pic from a seedy Queens strip club she'd frequented.
"It was crazy," an insider told Star. "Clearly, she parties hard!"
Rihanna's revelry stems part out of boredom and part out of solitude from life on the road, one insider said.
Article continues below advertisement
"She's actually a very lonely girl … she gets fed up with sitting in her hotel room, so she goes out drinking."
Another theory circulating about RiRi's turn toward the dark side is residual longing for her ex Chris Brown, who got the face of his new girlfriend, Karrueche Tran, tattooed on his arm after media murmurs the storied couple had briefly reunited.
"When Chris got the tattoo, Rihanna freaked out," the insider told Star. "She's been obsessed with the thought that he's going to marry Karrueche and she'll never be able to get back with him. She's heartbroken and in a bad place … she's been numbing the pain with alcohol."
Friends of the hitmaker see trouble on the horizon.
"She says she's having fun, but it's clear she's acting out because she's in a lot of emotional pain," a source told Star. "Everyone is telling her to slow down and think about therapy, or even rehab."
The issue is further complicated by a family history of addiction, as her father Ronald Fenty battled demons with crack in the family's home country of Barbados.
Article continues below advertisement
"Nobody wants her to end up like her father, or worse, turn out to be a tragic figure like Whitney Houston," a source told Star. "But that's what's going to happen if she doesn't take some action furious because it's extremely rare for to save herself -- fast."
For more on this story, check out the new issue of Star, on newsstands Thursday.
RELATED STORIES:
Rihanna Who? 'Head Over Heels' Chris Brown And Karrueche Tran Share A Passionate Kiss