Exclusive
Arrested Beauty Queen: Outrageous Boozing & Battery Photos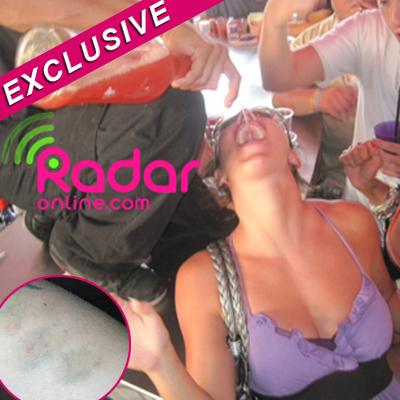 Former Miss New Hampshire USA, Nicole Houde, was arrested last month for physically assaulting her boyfriend, and RadarOnline.com has exclusively talked with him and obtained photos of his injuries.
The 26-year-old boozing beauty queen was arrested on April 25 and charged with assault after Scott Nickerson, 33, claimed she punched, kicked, scratched and bit him after they got in an argument because he thought she was cheating.
Article continues below advertisement
"When Nicole starts to drink, especially liquor, she becomes extremely jealous for no reason and then violence ensues. If she doesn't get whatever she is looking for at that moment she begins to fight to get an answer or attention," Scott told RadarOnline.com in an exclusive interview.
"She drinks three or four times a week, and in upwards of 10 drinks at a time!"
In the photos of Scott's injuries obtained by RadarOnline.com, there are bruises on his arm from where he alleges Nicole grabbed him and a bloody big toe where he says she stomped on his foot.
"I have a scar on my arm from her taking a bite out of it while on a cruise in February while my own son was awake right next to us. She came back to the room drunk and woke us up and started fighting me," Scott says, explaining that Nicole frequently got violent towards him and her April arrest was the final straw in a long string of assaults on him.
"I have had over 25 good size scratches that bled at the time and have since healed or left a scar. On her arrest she cut my toe open while stomping on my foot. I currently have a bite mark on my back that is healing from the arrest incident."
Article continues below advertisement
Scott claims Nicole is a very heavy partier and once her drinking takes over, she's nothing like the beautiful beauty queen portrayed in the pageants.
"The public only sees Nicole in her sober state for the most part, so most people she knows think she is an angel beauty queen when in fact she is nothing more than an out of control partier who turns violent and has cheated on me and previous boyfriend's and no one realizes this," Scott says.
On one of the worst occasions Scott claims Nicole got violent, he says he "had to leave her again at a local bar for the same out of control drinking and violence and when she finally came home, I locked myself in a room so she wouldn't be able to hit me, and she smashed the door down with her body to be able to attack me."
Nicole isn't the only Miss USA 2010 contestant to find herself in trouble with the law.
Article continues below advertisement