Mary Richardson Kennedy's Funeral: Feuding Families Come Together To Mourn Tragic Mom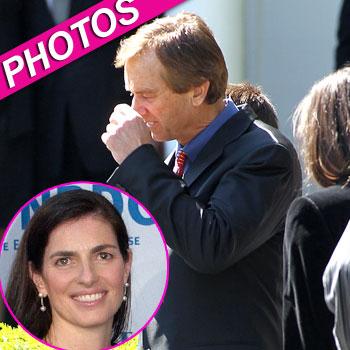 The two sides of Mary Richardson Kennedy's bickering family called a ceasefire on Saturday to mourn the tragic mom's death.
As RadarOnline.com previously reported, the 52-year-old's siblings took her estranged husband Robert F. Kennedy Jr. to court on Thursday over burial rights to her body.
On Friday Robert – who filed for divorce in 2010 – won and was granted the right to arrange her funeral service near his estranged wife's home in Bedford, New York and to bury her in Hyannis Port, Massachusetts near the Kennedy Family compound.
Article continues below advertisement
RadarOnline.com broke the news that Mary committed suicide by hanging herself, tragically ending a life marred with depression, alcohol abuse and rehab.
Family and friends attended the funeral that took place at St Patrick's Roman Catholic Church where all four of Mary's children with Robert had their First Communion.
Mary was said to be fearing that her estranged husband would fight for sole custody of their children, three of whom helped carry their mother's casket into church on Saturday.
Famous mourners included Kennedy cousin Maria Shriver, plus John McEnroe, Larry David, Chelsea Handler, Edward James Olmos, Chevy Chase and Dan Aykroyd.
Robert's sister Kerry, 52, paid an emotional tribute to his estranged wife at the funeral, telling mourners that the architect was her "very best friend."
Grief-stricken Kerry remembered the mother-of-four whom she met at boarding school when they were teenagers.
Article continues below advertisement
She said: "She was brilliant and she was beautiful and she cared so very, very deeply about everybody around her. I just think that she was really an angel who was brought to us, to live with us here on earth.
"And I think God just brought her back up to heaven and said: 'You don't have to fight for me anymore'."
Kerry commented on her sister-in-law's illness, saying: "Mary suffered from depression and it's a disease that so many, many, many Americans suffer from. She was battling, battling those demons and keeping them out of the paradise that was Mary."