Exclusive
SYTYCD Judge Mary Murphy's Shocking Cocaine & Sex Scandal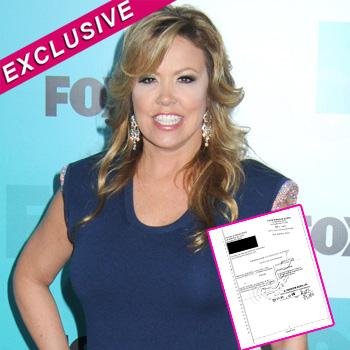 So You Think You Can Dance judge Mary Murphy has been labeled a "desperate, cocaine-fueled nymphomaniac" by one of those closest to her in a new bombshell lawsuit filed on Monday and exclusively obtained by RadarOnline.com.
Mary's long-time manager Michael Sanchez of Axis Management, who repped the reality star from 2006-2010, is suing her for breach of written and oral contract for more than $1 million in unpaid commissions and damages.
Article continues below advertisement
EXCLUSIVE DOCUMENTS: See The Cocaine & Sex Scandal Lawsuit Filed Against Mary Murphy
While Mary, 54, is famous for telling contestants to get on the "hot tamale train," her ex-manager says in court documents the dancer is more like a train wreck who showed "increasingly self-absorbed, childish and demanding behavior."
Among the shocking allegations in the lawsuit, Michael claims that she participated in alleged prescription and illegal drug abuse that caused her to miss or underperform in meetings and appearances.
Michael cites specific instances in 2009 when he claims security broke into Mary's apartment when she was "unresponsive," following a "cocaine-fueled evening of partying." He and another witness also claim to have discovered her in her Sydney, Australia hotel suite "high on drugs, in bed with a So You Think You Can Dance producer, with cocaine on the nightstand."
Mary's former manager also alleges his former client had "many inappropriate sexual relationships" that he was forced to cover up, leading him to believe she was a "desperate, cocaine-fueled nymphomaniac."
Article continues below advertisement
He describes her "questionable men" as SYTYCD and Chelsea Lately crew members, a drug dealer, and a married U.S. Naval officer Mary met online, according to the lawsuit.
Michael also alleges Mary demanded that producers give her alcohol "disguised in a Coke cup" to drink during studio tapings and that she "secretly" coached and worked with SYTYCD contestants behind-the-scenes -- as a result violating Fox TV rules and U.S. game show fixing laws, the court documents state.
Michael claims he counseled the former ballroom champ on numerous personal issues including "her self-described 'depression;' 'suicidal thoughts;' and 'addiction to plastic surgery'" leading to "multiple, secret operations."
The former manager credits himself with giving Murphy "guidance and advice" that led to her first full season contract as a judge on the hit dance show in 2007 and a lucrative, three-year renewal of the SYTYCD contract as a permanent judge the following year.
Article continues below advertisement
He also claims he helped her maintain her status on the Emmy Award-winning show despite "erratic and demanding behavior," according to the lawsuit.
The Hollywood manager alleges he not only provided Murphy with his public relations expertise, but Murphy owes her on-camera persona in-part to him, having written many of the judge's "one liners," rehearsing her scripted reactions and organizing her styling needs — all without additional payment.
"Mary is the ultimate 'victim.' Whenever something goes wrong, even if it's her fault, she will blame someone else. She never takes credit for the disastrous choices she makes," says a source close to Michael.
Michael's attorney Steven P. Krakowsky gave the following statement to RadarOnline.com: "Michael built and fiercely protected Ms. Murphy's brand. Like anyone who works hard, he deserves to be fully and fairly compensated for his efforts."
Article continues below advertisement
Mary's attorney Leah Saffian denies Michael's claims calling them "libelous remarks and allegations," and has claimed in a separate lawsuit brought against Michael that the dispute arises from his personal bankruptcy and his failure to pay Mary money owed to her under a contract.
An insider close to Michael refutes: "Her desperate attempt to shift the focus from her deadbeat behavior and drug abuse would be laughable if it wasn't so damaging. Common sense tells you that Mary's failure to pay one penny of the commissions she owed created the need for a strategic bankruptcy.