Madeleine McCann's Parents Break Their Silence: 'There Is A Good Chance She Is Alive'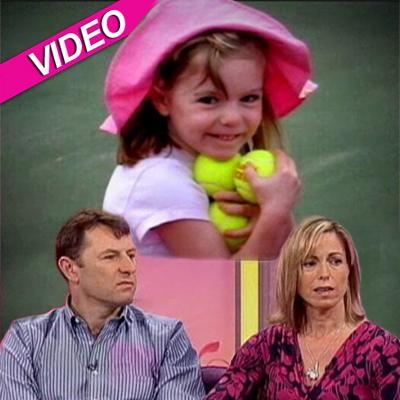 It has been five heart-wrenching years since British toddler Madeleine McCann went missing while on a family vacation to Portugal, and now her parents have finally broken their silence on Wednesday in an emotional interview on UK television.
"We don't know what happened, but we know there is a very good chance that she could be alive," her mother Kate McCann told host Lorraine Kelly on ITV's Lorraine, which aired in the U.S. on NBC's Today show.
Article continues below advertisement
"There's no evidence to the contrary. We know, year after year, missing children, children that have been abducted, are found alive," she said hopefully.
"It does feel now that finally someone in the British authorities are trying to find Madeline," her husband Gerry McCann went on to say.
Watch the video on RadarOnline.com
As RadarOnline.com previously reported, Madeline was nearly 4-years-old when she vanished in the Algarve region of Portugal in May, 2007. Kate and Gerry say they discovered Madeleine was missing after having left the girl and her twin siblings in the home unsupervised while having dinner less than 500 feet away. If alive, Madeleine would be 9-years-old, and authorities recently released an age progression photo of what she might look like now.
The groundbreaking interview comes a day before Thursday's anniversary of the last time the McCann's saw their pretty blonde-haired little girl, a day that they refuse to be marked with sadness. "We're probably as positive as we have been in a long time," revealed Kate.
British police say there are still leads to explore and after five years they haven't given up hope that Madeline may still be alive, having identified 195 investigative possibilities.
Article continues below advertisement
"I think the most positive aspect for Kate and I is for the public to hear that from the police," said Gerry.
Kate said that she tries to avoid imagining what it would be like to see Madeline alive again. "I don't that often, because it's almost like... it is so good and so beautiful, I guess, I don't want to take myself there and for it not to be real. I would be amazing."
"It's hard to go there," added Gerry.
The ordeal has affected the childhoods of their other children, twins Sean and Amelie, who were only two-years-old when their big sister vanished and are now seven.
Their proud mother recalled how 18 months ago Sean said to her, "'You know Mummy, if you haven't found Madeline when we get older, me and Amelie will look for Madeline.'
"I don't want them to be in the position where they are carrying around this kind of sadness and frustration. We want to find her now," said Kate vehemently.
Article continues below advertisement
Portuguese authorities closed the case in 2008 but are now looking at the new leads brought by the British police.
Madeleine's parents were interrogated as suspects in Portugal, but later cleared of any wrongdoing. Since their child's disappearance, they have appeared on The Oprah Winfrey Show and written a book about their experience.
Visit msnbc.com for breaking news, world news, and news about the economy