Madeleine McCann Bombshell: Police Believe Missing Girl Is Alive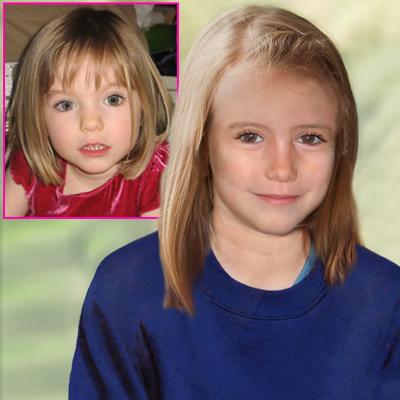 In a bombshell development, Metropolitan Police in London said Wednesday that they believe Madeleine McCann, the British toddler who went missing nearly five years ago during a family vacation with her family in Portugal, may still be alive.
Madeline was nearly 4-years-old when she vanished in the Algarve region of Portugal in May, 2007. Her parents Kate and Gerry McCann say they discovered Madeleine was missing after having left the girl and her twin siblings in the home unsupervised while having dinner less than 500 feet away. If alive, Madeleine would be 9-years-old, and overnight, authorities released an age progression photo of what she might look like now.
Article continues below advertisement
We are seeking to bring closure to the case," Detective Chief Inspector Andy Redwood told the BBC. For the first time since the investigation began into Madeleine's disappearance -- dubbed Operation Grange – police say that as a result of evidence uncovered during their latest review, they now believe there is a possibility the girl is still alive. Police did not give any further information as to why they came to that conclusion.
"I am satisfied that the systems and processes that we are bringing to this set of circumstances will give us the best opportunity to find those investigative opportunities that we can then present to our colleagues in Portugal," Redwood said.
Nearly 30 British officers are assigned to the case, and police in the UK Wednesday called on Portugal to reopen the case, saying they have close to 200 leads that could help find the missing girl alive. But in Portugal there is less support for reopening the investigation.
Article continues below advertisement
"Everyone believes I am defending a father and mother that killed the daughter and got rid of the corpse," the McCann's Portuguese lawyer Isabel Duarte said.
Madeleine's parents were interrogated as suspects in Portugal, but later cleared of any wrongdoing. Since their child's disappearance, they have appeared on The Oprah Winfrey Show and written a book about their experience.
RELATED STORIES:
Toddlers & Tiaras Meltdown: 'I'm Really Mad!' Screams Angry Pageant Mom