Exclusive
Lindsay Lohan Unhappy With Casting Choices For Richard Burton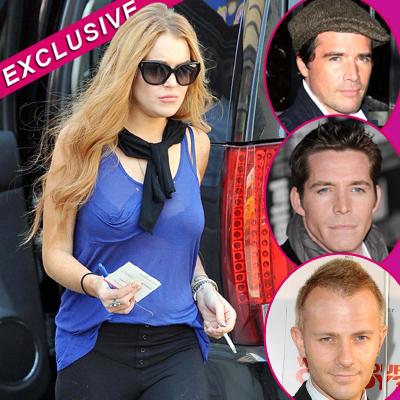 Radar Assistant Managing Editor
Lindsay Lohan is extremely unhappy with the casting choices of the male actors who have auditioned for the role of Richard Burton in the Elizabeth Taylor Lifetime biopic, and filming is scheduled to begin in just a few weeks, RadarOnline.com is exclusively reporting.
As we previously reported, the decision to cast Lohan as the screen icon has drawn criticism from Rosie O'Donnell who recently said, "I feel very sorry for her. I think she needs a lot of time away. ... She's had a lot of trouble doing every single movie, including SNL.  She was out and not in rehearsal. I think she's not in a place to work."
Article continues below advertisement
Choices to play the role of Richard Burton have come down to Gossip Girl star Matthew Settle, Sean Maguire, and CSI hunk Craig Robert Young, but after watching the audition tapes last weekend, "Lindsay declared that none of the actors were the right fit and that she wanted to go to London to look for a possible Burton actor there," a production insider tells RadarOnline.com. "Lindsay is being an absolute nightmare about who should play Burton. She believes Matthew Settle is too old to play the role, and she wants a major A-list star to be her co-star. However, her salary for the role took up a major portion of the budget, and the Burton gig will likely only pay $200k, max. The producers don't need to get Lindsay's approval of who will play Richard Burton, but they want to keep her happy."
Making matters worse, is that filming is slated to begin in just a few short weeks, and they are no closer to signing an actor to play Burton.
"They are already in pre-production and it's very hard to conduct any rehearsals without the pivotal role of Richard Burton," the source says. "There is also cause for concern because Lindsay partied all night last week with Paris Hilton, Barron Hilton and Brandon Davis. All three, including Lindsay, have been arrested for DUI and/or drug charges previously. Lindsay shouldn't be out partying all night long, no good can come of that."
Article continues below advertisement
So will Lohan get her wish to jet across the pond to find her ideal Richard Burton? "Hell no!" The source says. "There just isn't any money in the budget, or time, to do so. The producers will try to land someone that Lindsay likes, but, if push comes to shove, they will just cast the role without her approval."
RELATED STORIES:
Ali Lohan Shows Off Stick Thin Legs In Short Shorts
Lindsay Lohan Assault Accuser Just Wants An Apology, No Plans To Sue
Lindsay Lohan Still Not Officially Signed For Elizabeth Taylor Biopic