Kim Wigs Out With Kanye At L.A. Photo Shoot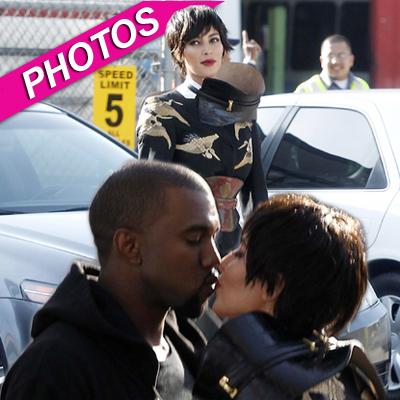 Spring is still in the air for Kim Kardashian and her hip-hop hunk Kanye West.
The A-list couple shared a smooch Sunday while Kim was snapped for Vogue Italia magazine in Los Angeles, in a daunting shoot that saw her wear a number of over-the-top get-ups and short wig.
Following what she called an "amazing breakfast with the family" for Mother's Day, Kim went to have her picture taken, flanked by the supportive Flashing Lights singer, just a day after the two were inseparable watching the Los Angeles Lakers in action.
Article continues below advertisement
And while reality TV's biggest star didn't get to walk the red carpet at the Met last week, she put on her own fashion show-of-one, preening in the elaborate outfits as cameramen furiously snapped away.
The fashionista, 31, wore a short dark wig reminiscent of mom Kris Jenner or stage great Liza Minnelli. That topped off a sexy get-up of a black ruffled gown that showed off her killer curves and ample bust, along with a black and silver shawl. Another outfit she wore consisted of leather pants and a kimono-esque top, making for a very futuristic look.