Celebrity Guessing Game! 10 Movie Stars Before They Were Famous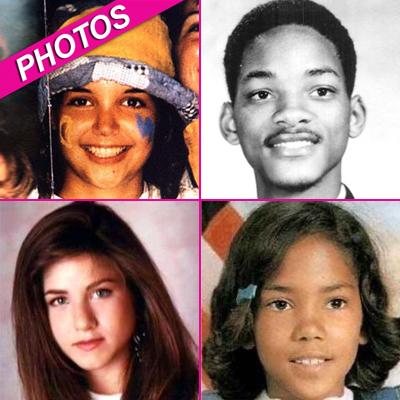 How well do you know the faces of your favorite Hollywood stars?
Before they were famous, these huge celebrities were just your average girls and guys next door, growing up in small towns, attending their local high schools and posing for cheesy yearbook photos. Several years and millions of dollars later they have glamorously transformed into international superstars, but can you identify them before they ever hit a red carpet? RadarOnline.com has photos of 10 huge movie stars before they were famous!
Article continues below advertisement
Angelina Jolie and Jennifer Aniston are considered two of Hollywood's sexiest leading ladies, not only competing for roles but also for the heart of the biggest hunks on the big screen. But were Jen and Angie always stunning, or did they go through awkward ugly duckling phases?
From girl next door to glam! This 30-something actress rose to fame on a popular teen show, playing an adorable tomboy trying to win the heart of her best male friend. But it was her real life romance with one of Hollywood's most famous actors (and biggest Scientologists) that had the real fairy tale ending.
Good taste in movie roles, bad taste in boys! Both these Academy Award winning actresses nab all the great roles, but when it comes to their love lives, they have managed to pick out some bad boys. Can you guess who they are, by their pre-fame faces?
See if you can identify your favorite stars from their childhood photos by clicking here.