Star Scandals! Celebrities Whose Careers Have Taken Hits Because Of Personal Problems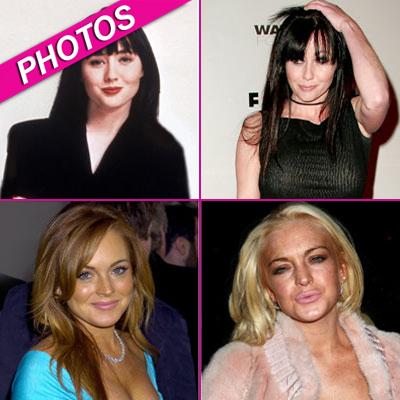 Lindsay Lohan isn't the only Hollywood star who has suffered a career setback because of personal problems!
The troubled starlet, who is attempting to get her acting career back on track by playing Elizabeth Taylor in an upcoming Lifetime movie, is just one of several stars in Hollywood history whose career has taken a hit because of their personal problems. RadarOnline.com has photos of 10 stars who have suffered career setbacks because of their scandalous personal lives.
Article continues below advertisement
Winona Ryder, who was engaged to Johnny Depp for three years in the early 1990s seemed to be unstoppable after several smash hits at the box office including Beetlejuice, Heathers, Edward Scissorhands, Mermaids and Reality Bites, but a 2001 arrest for shoplifting and her subsequent hiatus from Hollywood took a toll on her career. The actress has appeared in a variety of films since, including 2010's The Black Swan, but hasn't been able to claim the box office like she did earlier in her career.
Macaulay Culkin is one of the most famous child stars of all times! Becoming an overnight international star in Home Alone, Culkin went on to star in a slew of films throughout his youth. Marrying actress Rachel Miner in his teens and divorcing her after just a few years, he went on to date Mila Kunis for nearly a decade. In 2004, Culkin was arrested for possession of drugs, which resulted in three deferred one-yearsentence, a court fine and mandatory drug treatment. In recent years he has appeared in a few minor movies, and was photographed recently looking shockingly gaunt in New York City.
Article continues below advertisement
Randy Quaid enjoyed several years of Hollywood success and amassed several awards and nominations, so the world was shocked when he and his wife Evi were arrested in 2009 for ditching a $10,000 hotel bill in Santa Barbara. In the following months, the couple failed to appear in court multiple times and multiple warrants were issued, before they finally appeared and were slapped on the wrist for the incidents. But their legal troubles didn't end there! They went on to get in trouble with the law for illegally occupying a property and then proceeded to get arrested at the Canadian border where they applied for refugee status, claiming that the "Hollywood star whackers" wanted to kill them. Quaid has not appeared in a film since 2009. The couple now lives in Canada.