Not So Fresh-Faced! Lindsay Lohan Shows Off Puffy Cheeks, Trout Pout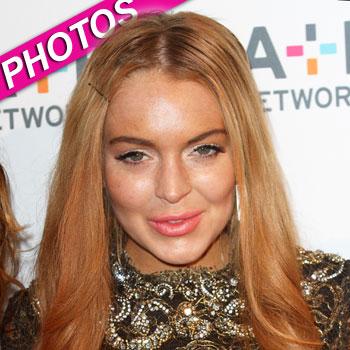 It's hard to believe that Lindsay Lohan is only 25-years-old!
The scandalous starlet hit the red carpet for the A&E network 2012 Upfront in New York City on Wednesday night, looking more like a Real Housewife than a twenty-something actress – and RadarOnline.com has the photos.
Showing off her slender figure in a metallic lace sleeveddress, which she paired with metallic and black platform sandals, it wasn't her designer duds that grabbed attention!
Article continues below advertisement
Lindsay's cheeks looked puffier than usual, and her enlarged trout pout was impossible not to notice. To make matters even worse, the actress had her brows heavily darkened, as well as too much bronzer powdered on her forehead.
What do you think about Lindsay's look? Sound off below.
RELATED STORIES:
Ali Lohan Shows Off Stick Thin Legs In Short Shorts
Lindsay Lohan Assault Accuser Just Wants An Apology, No Plans To Sue
Lindsay Lohan Still Not Officially Signed For Elizabeth Taylor Biopic