Exclusive
Bobbi Kristina Walks Off New Show, Still Struggling To Deal With Whitney Houston's Death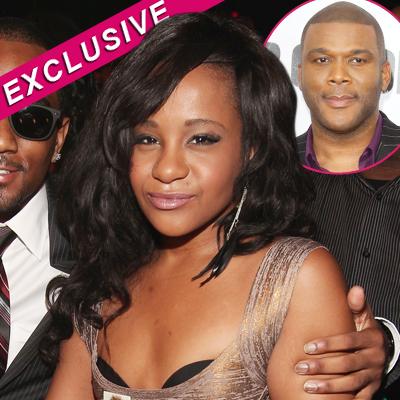 Article continues below advertisement
Her recurring role was announced less than a month ago. "She thought she was ready for this, but she wasn't," one source told RadarOnline.com. The insider added that when Bobbi, 19, walked off the set she did it so quietly that barely anyone noticed, even though she dissolved into tears.
Bobbi Kristina is still filming her reality TV show for Lifetime, which the source says is less taxing on her and also features other members of Whitney's extended family. But her departure from Perry's show has thrown it into a chaotic state, forcing rewrites to explain the exit of her character.
Perry, says the source, is unhappy about having to deal with the situation but still fully supportive of Bobbi. Perry spoke at Houston's funeral.
"Bobbi Kristina had a private breakdown and barely anyone saw it," the source said. "She was crying and said she needed a minute, she needed a break to get herself together. But then she decided she couldn't handle doing the show right now. She's still mourning her mom."
Article continues below advertisement
"She is confused right now," another source told RadarOnline.com. "She is not prepared to live without her mom."
Things were going well on the show as Bobbi bonded with the cast and crew. But the toll of her mother's death still weighs heavily on her every day and at one point Bobbi said: "Who am I fooling? I can't do this."
After walking off she later had a private conversation with Perry, who is deeply concerned about her. "He understands. He's upset and worried about her," the source said. "But now he's had to do a lot of restructuring work on the show."
Perry and show execs hoped that Bobbi Kristina would change her mind and come back immediately. But she has not and they have had to move on with rewrites.
"She just crumbled," the source said. "She cried a lot."
Since walking off the show, Bobbi Kristina has spent some time at home, the same house where Whitney lived. "She's back in the comfort zone of being happy where her mother was and feels closer to her mom when she's at home," an insider told RadarOnline.com. But Bobbi was also spotted in New Jersey this month and in Las Vegas during the Billboard Awards.
Article continues below advertisement
Money has not been an issue for the teen. While she was earning approximately $30,000 an episode for the TV show she still is receiving large sums from her mother's estate, despite earlier reports that Whitney died broke.
UPDATE: Tyler Perry has posted a response to our post on his blog confirming Bobbi Kristina's struggle to come to terms with her mother's tragic death.
Perry denies that Bobbi Kristina walked off set though, insisting she fulfilled all her filming commitments. However, our source insists that she did indeed leave filming early and has since begun work on her reality TV show.