Bethenny Frankel And Husband Step Out As They Refuse To Comment On Divorce Reports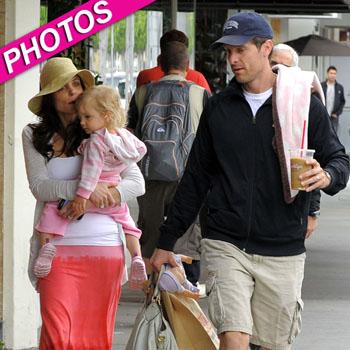 Article continues below advertisement
"They are going to get a divorce … it's imminent," a source said about Bethenny and Jason, who have documented their fights and potential demise on their reality show Bethenny Ever After.
The former Real Housewives of New York City star has made a fortune from her Skinnygirl line and may be fanning the marriage-in-trouble buzz to help draw viewers to her talk show.
As RadarOnline.com exclusively reported, if the couple does decide to split their financial settlement has already been agreed upon with a prenup that was signed and then slightly modified after they were married.
"The prenup clearly outlines that ALL of Bethenny's business deals, endorsements, Skinnygirl, are hers," an insider said. "The prenup was modified after the couple got married, but Skinnygirl is and always will be Bethenny's, and Jason waived any rights to it."
Bethenny, Jason and their daughter picked up toys while shopping in tony Beverly Hills, but they weren't seen smiling with each other, further fueling the fires of their marriage tensions this week.