No Wonder He's Smiling! Sandra Bullock's Son Louis Bardo Has A New BFF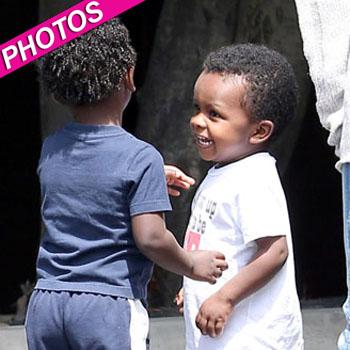 Super cute little Louis Bardo has a new best friend.
The gorgeous son of Oscar winning actress Sandra Bullock, 47, laughed and giggled as he said goodbye to his pal outside of his Los Angeles school Thursday.
Sandra's little Cajun Cookie is growing up fast and the two-year-old is already showing he's proud of who he is.
The toddler was wearing a T-shirt that said, "When I grow up I want to be ME."
Article continues below advertisement
The dressed down busy mom threw on a pair of jeans and a baggy gray sweater for the afternoon school run and watched on as Louis and his buddy chatted it up and played with a set of keys.
And it seems that Sandra's decision to go it alone as a single mother following her split with Jesse James is inspiring other Hollywood stars eager to start a family – with or without a partner.
GCB star Kristin Chenoweth, 43, recently told PR.com that she is inspired by the Extremely Loud and Incredibly Close actress.
MORE ON:
Kristin Chenoweth
"If I were to have a child, I could see myself adopting a child," Chenoweth revealed. "I've always kind of not wanted to do it alone.
"I'd love to have a partner that I could be a parent with. But I look at Sandy Bullock and I think that's a great example. At almost age fifty she's a mama and she has a baby. I can see that in time I could say, 'I'm going to do that.'"
RELATED STORIES:
School Time For Louis! Sandra Bullock Drops Off Her Cajun Cookie