Exclusive
Max Shacknai's Mother Suing Estate Of Rebecca Zahau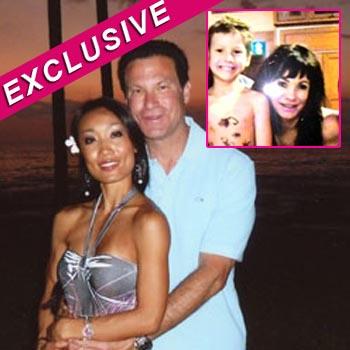 By Jen Heger - RadarOnline.com Assistant Managing Editor
Dina Shacknai, the mother of six-year-old Max Shacknai who tragically died last summer at his father's Coronado mansion, is suing the San Diego Medical Examiner's office to obtain his autopsy photos because she doesn't believe that he died by falling and hitting his head, RadarOnline.com is exclusively reporting.
As we previously reported, Rebecca Zahau, the girlfriend of Dina Shacknai's ex-husband Jonah Shacknai, killed herself just days after Max's fatal accident. Zahau's death was ruled a suicide after her naked body was found hanged with her hands and feet bound at The Spreckles mansion on July 13. Rebecca's family vehemently disagrees with the San Diego Sheriff's Department's determination that she killed herself.
Article continues below advertisement
"Dina doesn't believe that Max fell to his death, she never believed nor agreed with that finding. Dina is gathering as much information as possible pertaining to Max's death, and this includes seeking his autopsy photos. Remember, Rebecca Zahau's younger sister, Xena (13), was also at the house the day that Max died. The San Diego Sheriff's Department said that Rebecca was in the bathroom downstairs, and Xena was in the bathroom upstairs at the time they believe Max fell from the second story balcony area. The chandelier that had been hanging from the ceiling in that area was found next to Max's body, and Dina doesn't believe that Max had enough strength to attempt to grab onto it to break his fall, as the report from law enforcement stated. Dina is exploring all of her legal options, which could include filing a wrongful death lawsuit against Rebecca Zahau's estate. This isn't about money for Dina, she wants answers, period," a source close to the situation tells RadarOnline.com.
A San Diego Superior Court judge ruled earlier this week that he would release the photos to Dina, unless the San Diego District Attorney's Office filed an opposition to the ruling.
Meanwhile, Anne Bremner, the attorney representing Rebecca Zahau's family, has formally asked the California Attorney General and the San Diego District Attorney's Office to launch a new investigation because of new evidence she has uncovered. Bremner said on her Twitter account, "In the Rebecca Zahau case, submissions have been made to the AG and DA. On behalf of her family, thank you for your support."
MORE ON:
Celebrity Justice
Article continues below advertisement
This is the second request that Bremner has made for the California Attorney General to get involved in the case after the office rejected the case last summer. Jonah Shacknai released a statement after the Attorney General's decision last summer. "I would like to thank Attorney General Harris for her condolences and consideration of my request to evaluate this matter. I respect and accept the determination of the chief law enforcement authority in the State of California that the circumstances of this investigation do not warrant further review by the Attorney General at this time. Given the unusual facts of this tragedy, I understand that Rebecca's family and others continue to have questions. If at any time there is new substantive evidence bearing on this case, it should be presented, not in tabloid form to fuel rumor and innuendo, but rather to appropriate law enforcement authorities who may determine whether further investigation is warranted. I continue to pray Max and Rebecca are now at peace, and that all of us devastated by their losses will be permitted to continue to grieve privately as we struggle to achieve some peace and closure."