Real Housewives' Daughters Dish On What Its Like Having A TV Mom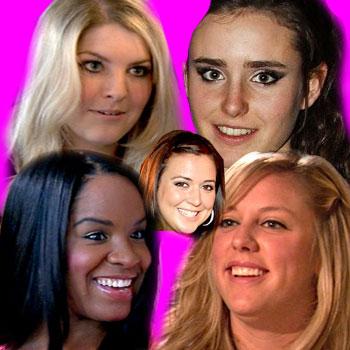 By Debbie Emery - RadarOnline.com Reporter
The stars of the Real Housewives franchises all choose to air their most intimate moments on primetime television, but some of their children aren't so keen to have viewers know their family secrets.
In the run up to Mother's Day, the daughters of five of the reality TV hit series' biggest divas joined forces to reveal to Glamour magazine just what it is like having the world see your mom get in cat fights and create drama every week.
Article continues below advertisement
Lauren Manzo (New Jersey), Tierra Fuller (Atlanta), Victoria de Lesseps (New York City), Pandora Sabo (Beverly Hills), and Briana Culberson (Orange County) opened up about everything from weight worries and wedding woes, to school bullying and parents' divorce.
"My biggest fear was viewers noticing my weight. I knew I was heavy, and I knew people were going to say something, but I did everything I could to hide it and act like I was confident," revealed Lauren, whose mom is Caroline Manzo, and although the pair were always open about her weight, "What upset me is when people wrote and said, 'Your own mother thinks you're disgusting.' Not because they're calling me fat but because they're going after my mom," the 24-year-old added.
Despite being the daughter of restaurateur and reality queen Lisa Vanderpump, Pandora said she is very low key and is keen to live her life out of the spotlight.
"I'm a more private person than my mother is. So when Jason (Sabo) proposed, we had to think about how we were going to do this wedding," explained the 26-year-old newlywed, who walked down the aisle at her parents' house last August. "My mother's life is on television, but mine really isn't," she said, and when it came to the big day. "I didn't let Bravo film any of the wedding."
Article continues below advertisement
On the flip side, Briana thinks of the cameras as providing "family therapy" for her and OC mom Vicki Gunvalson. "It's really tough to see the family things replayed, like my parents' split," said the 25-year-old. "It reopens the wound. But it's kind of like therapy. Most of the time our family's not very open about our feelings with one another, so we see each family member on TV talk about their reaction to the divorce."
Just like her titled mother Countess LuAnn de Lesseps, Victoria tries her very best to stay out of the New York drama and act with etiquette. "I'm not a person who loves to be in front of the camera all the time," said de Lesseps, 17, who admits that when she was at boarding school, "there were some instances when I thought teachers were harder on me because of the show. I can feel when there's a weird tension."
Article continues below advertisement
Tierra didn't even appear on RHOA until season three, when viewers were shocked to be introduced to Sheree Whitfield's oldest daughter. "I was only on the show a few times, but the city of Atlanta isn't that big, so I get a lot of recognition," she said, and even revealed that she would be interested in doing her own spin off show if approached. "A lot of opportunities come out of reality shows, and my mom is my role model."