Teen Who Flipped Car: Patrick Dempsey Saved My Life!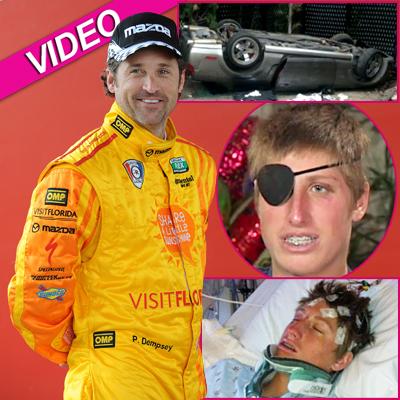 Patrick Dempsey's saved plenty of TV lives playing "McDreamy" on ABC's Grey's Anatomy; now he just might have saved one in real-life.
The 46-year-old hunk last week came to the aid of a 17-year-old boy who flipped his Mustang three times near his Malibu home, fearlessly emerging to the scene with a crowbar and a fire extinguisher to pry the teen from the wreckage.
"I was scared for my life," the driver, Weston Masset, told ABC News Monday. "I was upside down."
Article continues below advertisement
After helping free Weston from the vehicle, Patrick called the boy's mother and remained on the scene as the teen was airlifted to the hospital, where he was later diagnosed with a concussion and eye injury.
Weston -- who's expect to fully recover from the dangerous crash -- said he asked the actor, "Are you famous?" and Patrick said, "Yeah, I'm a doctor."
Weston said Patrick "was there for me," and the situation "would have been a lot worse without him."