Patrick Dempsey On Grey's Future, Michael Bay's Temper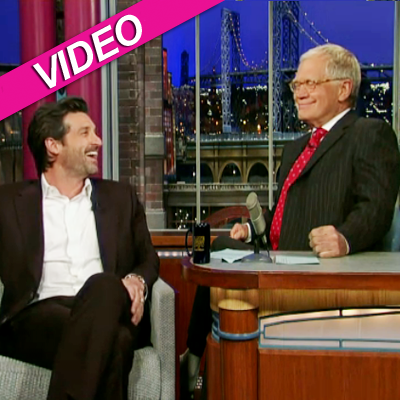 By Adam S. Levy - Radar Staff Writer
Actor Patrick Dempsey dished on his status with Grey's Anatomy, and shared a funny story about his mercurial Transformers: Dark of the Moon director Michael Bay on Wednesday's The Late Show.
Dempsey said his words in a recent interview with Italian Vanity Fair were misconstrued, as he said he's "pretty much done" with the show in terms of his current contract -- not necessarily that he's leaving.
Article continues below advertisement
Dempsey said he doesn't know if ABC is going to renegotiate his contract for the medical hit.
"That's what I'm waiting on," Dempsey said.
"Should I be worried about this?" Letterman asked.
"I wouldn't be that worried," Dempsey said. "Honestly, you should get some sleep."
Watch the video on RadarOnline.com
And of course, we got an obligatory Michael Bay story, as the big budget director's cathedral-sized temper -- and public clashes with stars such as Bruce Willis and Megan Fox -- have been well-documented.
Letterman asked, "What is he, is he a megalomaniac? He's a jerk? He yells at people?"
"He's a passionate man," Dempsey said, but warned that Bay's temper goes from zero to 100 if you get into his line of sight.
Dempsey said knowing this, he positioned his chair behind Bay's, but still wound up getting screamed at when he accidentally walked into Bay's eye line.
"He's psychotic, this guy," Letterman chimed in. "You know, I heard once that he slapped a grip ... he's a psycho."