Tom Hanks Loves Being A Grandpa: 'She's Magnificent!'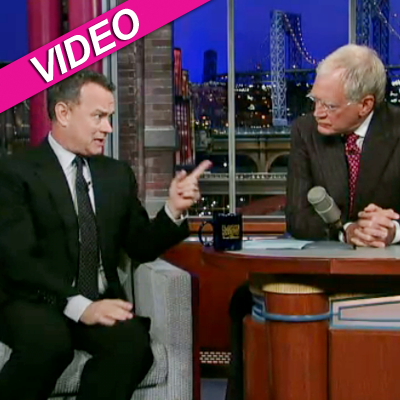 By Adam S. Levy - RadarOnline.com Staff Writer
Tom Hanks became a grandpa for the first time earlier this year, and on Tuesday's Late Show with David Letterman, the A-list actor dished on what it's like getting to know his pride and joy.
As we previously reported, Colin Hanks, Tom's 33-year-old son with the late Samantha Lewes, became a father February 1 when his wife Samantha Bryant delivered their baby daughter Olivia Jane in Los Angeles.
Article continues below advertisement
Tom told Letterman Tuesday, "My granddaughter's is magnificent ... and I just don't see her enough ...
Tom said that because the child is not quite familiar with him, he still represents "a terrifying presence in her life."
"I'm the big guy, I'm not her dad or mom, and I yell, 'Who's that little girl? Who's that little girl? I know you; You're so cute, Who's that little girl?'
"And she's not ready -- I just don't see her enough ... I'm just this weird, ogre-like guy."
Hanks said he eventually began timing things better with the baby's schedule, and he got her to "laugh, smile and giggle."
Hanks said after spending another three weeks working -- and not seeing the baby -- she didn't recognize him, again, when her came over to celebrate Father's Day.
"I didn't know a baby could make these kind of faces, and in her baby language she was saying, 'Stay away from me.'"