Shia LaBeouf: Director Michael Bay Is 'Aggressive, Hard To Work For And Demanding'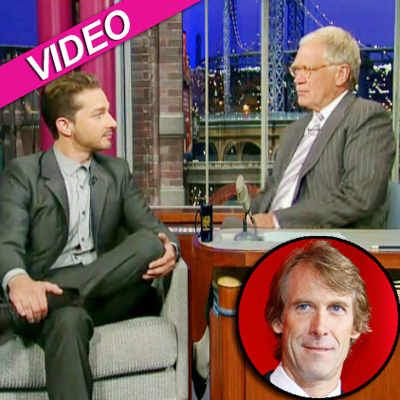 By Adam S. Levy - RadarOnline.com Staff Writer
Michael Bay didn't direct Horrible Bosses, but maybe he should have.
The Hollywood director, known for his big budget films and his larger-than-life presence, is "aggressive, hard to work for and demanding," one of his frequent leading men, Shia LaBeouf, told David Letterman on Monday's The Late Show.
"He's a caricature of a director," LaBeouf, 25, said of Bay, adding that film interns are honored to get chastised by the high-octane director behind action classics such as Armageddon, The Rock, and all of the Transformers films.
Article continues below advertisement
"It's a dream to get screamed at by Bay," the young A-lister said. "It's like being insulted by Don Rickles!"
LaBeouf, who said he's been working with Bay for six years, explained that while he might be intense, he's definitely the right man for the job.
"These movies are aggressive and you need a captain," LaBeouf said.
Bay's clashes with stars such as Bruce Willis and Megan Fox have made headlines in Hollywood over the years.